Shine 2019: An Interview with Suzanne Seed
Suzanne Seed is a Norfolk-based silversmith who utilises clean lines and sharp contrasts in her pieces, which are designed with both functionality and beauty in mind. She's also one of ten makers chosen for Shine 2019, our annual showcase of new talent, and in a recent interview gave us an exciting glimpse of what she has planned for the event.
Can you tell us a bit about your journey into the industry?
I did a BA degree in Silversmithing, Goldsmithing and Jewellery 2013 -16, followed it with an MA in Creative Entrepreneurship at the UEA. I attended Getting Started at the Goldsmiths' Centre in January 2017 and this course covered so many important yet often overlooked elements of how to turn your creative practice into a career. It was an intense week and I still find myself looking through the notes as they have been invaluable.
Silversmithing can be a slow burner to get set up in, so since then I have been working part time in an unrelated field while working on developing my practice and increasing my skills. Earlier this year, I began teaching silversmithing and jewellery to adult education classes in Norwich and this has really helped to boost my confidence as it made me appreciate how much I have advanced. Sometimes it's easy to get caught up in how much you want to want to achieve instead of acknowledging how much you have already achieved.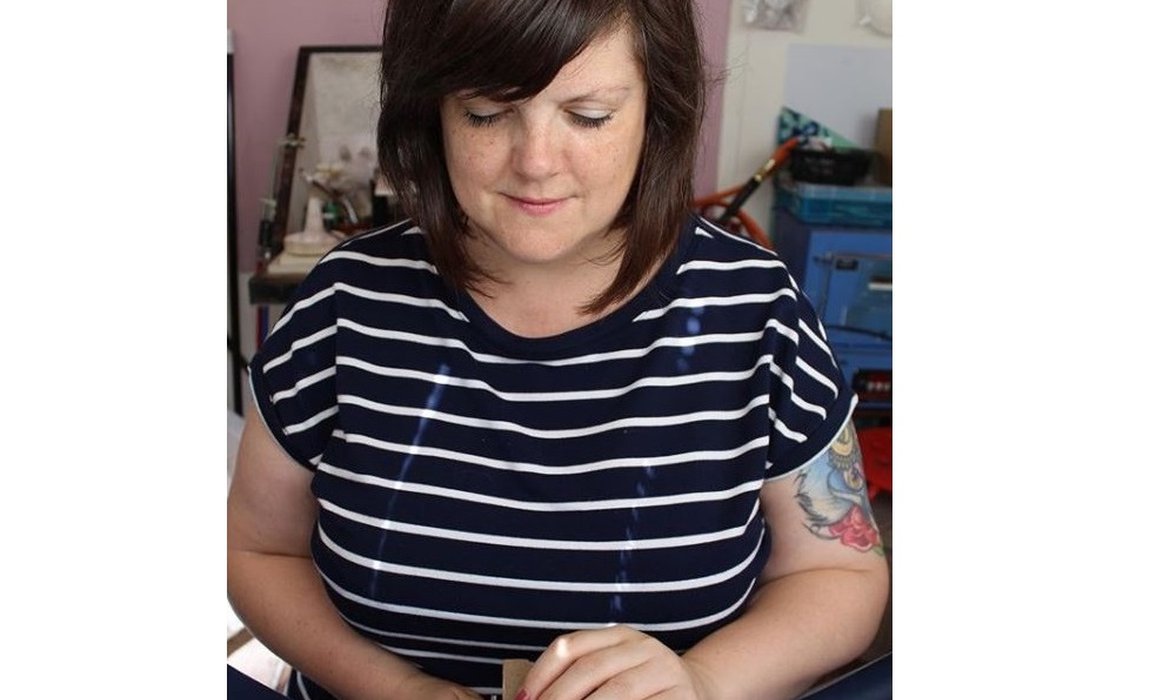 What does being chosen for Shine 2019 mean to you?
I was over the moon to receive the invite as I featured in Shine 2016 as a recent graduate. It's such a compliment to be recognised by the Goldsmiths' Centre as a silversmith who is growing, developing and becoming more established. It has taken a while but I've done it at the right pace for me and this year I've started to feel like I'm really getting somewhere and my silversmithing is starting to come together.
How would you describe your design style?
Quite minimal with a bit of a modernist approach. Repetition and bold lines crop up a lot throughout my designs and all my pieces are functional. I would love to make purely sculptural designs but something inside me insists on my work having a function, and however hard I try I just can't let go of that!
What can you tell us about the collection you'll be debuting?
It's a collection of jugs. I made a set of a jug, bowl and spoon a couple of years ago and always regret talking myself into making a spoon and bowl to go with it, rather than just allowing the jug to speak for itself. I'm more self-assured now and have the confidence to make exactly what I want to make, instead of that misplaced feeling of obligation of "if I make X I have to make Y to go with it".
What's your favourite piece in the collection, and why?
While I like them equally, I have to admit the one with the curved spout is my favourite. Of the three it is closest to the original jug design from a couple of years ago and serves as a visual marker of how far I have come since then – improving and refining my designs and increasing my skills and quality of making.
What kind of customer do you expect to be most drawn to the pieces?
Those who appreciate a high quality handmade design which functions well, and is made in a material that will last forever. Silver items won't end up in landfill – or at least they shouldn't – and can be passed down and enjoyed for generations to come. Silver often gets saved "for a special occasion" but it shouldn't – every day is a special occasion so use that beaker for water as well as whisky!
What are you most looking forward to about participating in Shine?
Two things; the chance to spend time with other silversmiths and jewellers at a similar stage in their career. Creating those connections is valuable and we all reach out to each other for advice and to share information, and this is most welcome when you tend to work on your own most of the time.
And secondly, the opportunity to show my work to a new audience. Having the chance to talk about it and get direct feedback helps me to see what works, what doesn't, and helps to inform future design decisions. Seeing how others interact with my designs is one of the best parts of being a maker, and that's when the pieces really come to life.
Suzanne's collection is now available for purchase via our eShop - perfect for a bespoke Christmas present!