In conversation with award-winning jeweller and 'moon dust' queen Silvia Weidenbach
We caught up with award-winning jeweller and 'moondust queen', Silvia Weidenbach about how her career and experience having a studio at the Goldsmiths' Centre. Now Resident Jeweller at the Victoria & Albert Museum, we find out where Silvia finds her inspiration and what makes her work so unique in the industry.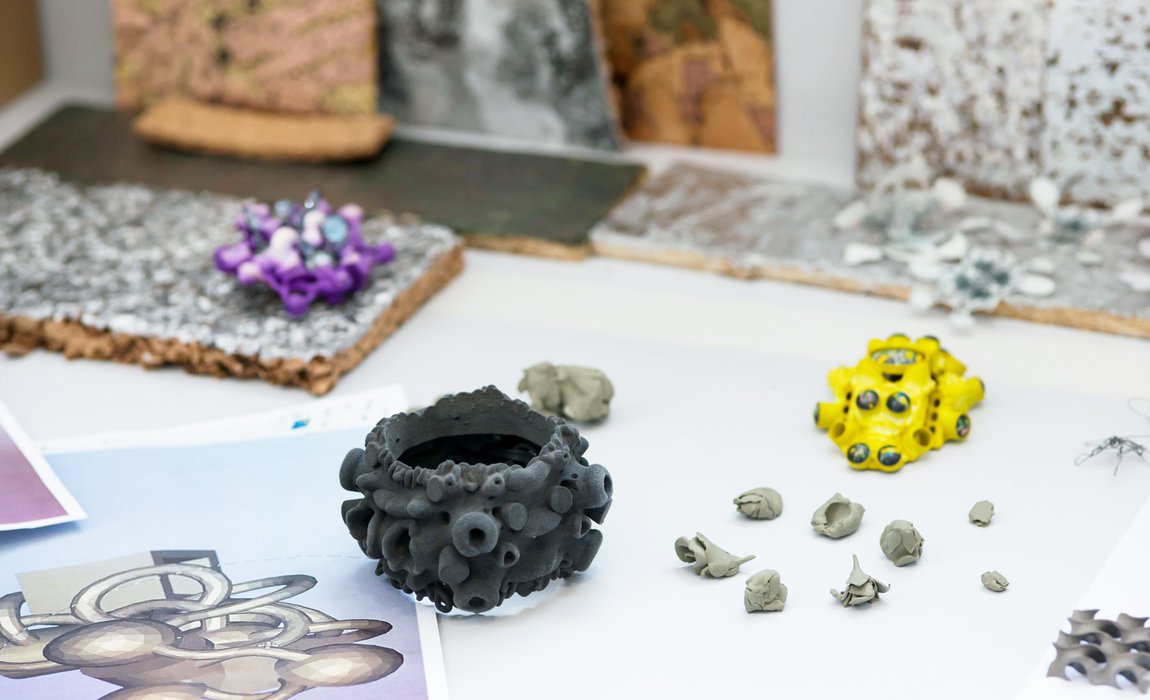 Great to have you here, Silvia. Tell us a little about yourself, including what you do and how you got here.
Thank you for having me. I started my creative journey with a traditional three year silversmithing apprenticeship in Germany where I learnt to make silver spoons and teapots from 2D sketches to fine 3D modelling. From there, I realised that I was very interested in understanding how to manipulate materials. I was also drawn to jewellery making which enabled me to combine different materials. This was a very exciting time for me and I decided not only to focus on my craftsmanship skills, but to also spend more time on developing my designs and understanding of jewellery.
I decided to study jewellery and focus on finding my own artistic language. I went on to study at an Art university called Burg Giebichenstein University of Art and Design where I was surrounded by painters and sculptors, which I loved working with and having stimulating creative exchanges (this experience felt more like an art education). After this, I moved to London as I was always drawn to the City and I knew it was a place where I could physically see so many artworks (applied art, decorative arts, the V&A). Luckily I was accepted to study my MA at the Royal College of Art where I arrived with all my experience and skills, as well as my own creative language - it is important to understand the fundamentals.
At the RCA I studied Goldsmithing, Silversmiths, Metalwork and Jewellery, an open and conceptual course. I loved my time at the RCA as there were people from all over the world and it helped me to reset my thinking process and creative language. It was a very inspiring time where I learnt about Computer Aided Design (CAD) and how it can be used to support my creative expression. I had a resistance towards using computers and I felt that I was quicker with my hands. This is where I discovered the use of a haptic arm where I would get feedback from the computer enabling me to freely model in a space. This was an exciting innovation linking traditional craftsmanship and digital technology. It also allowed me to think about new complexities, my curiosity drove me to learn more and discover the vast array of possibilities that came available through CAD Haptic devises.
Design style
Tell us about your design style. What makes your collections unique in the industry?
My design style is a combination of traditional processes and new technologies. It is an amalgam of the past, the now and the wow! I have always been interested in new approaches and using traditional processes in a non-traditional way - a fusion of the future and the past. I want to bring heritage to the 21st century, and I am fascinated by the applied arts. I use 3D printing for large pieces, which is very wearable, and I have a true understanding and knowledge of both traditional processes and new technologies. I like the idea of a cabinet of curiosities, allowing the viewer to create an explanation for what they are seeing. This is a kind of freedom which I want to push with my own work. In the future I would love to add a digital experience to the notion of a cabinet of curiosities.
What or who initially drew you to jewellery design, and more specifically, 3D printing?
My MA plays a significant role in my work. I was working in the RCA art café and met people from different creative fields. This diversity allowed me I learn about various themes. At this time I was in a very lively vibrant environment where 3D printing was a buzzword.
Unique pieces
Where do you find inspiration for your unique pieces?
I find my inspiration in several places. I would say that during my design process, I am initially more inspired by other disciplines such as music or dance. After which, I take inspiration from the jewellery industry and its heritage. I have mood boards and themes that I use before I create a piece but sometimes the vision comes whilst I am creating the piece itself.
I enjoy visiting Goldsmiths' Hall and one of my favourite events are their handling sessions where I have the opportunity to take a closer look at crafted pieces. I am also inspired by nature and science fiction. I add my filters – be it colour, exuberance or celebration. London is a fantastic source of information with so many different components coming together.
"It is important to have curiosity, to have passion for the field and to have a lot of energy"
Which two artists do you most admire and why?
My two favourite artists are Eduardo Paolozzi and Grayson Perry. Eduardo Paolozzi because I love his playfulness and his excess of making, colour fantasy and imagination. Grayson Perry is another great artist who I love for the way he plays with the applied arts and the way he uses tactile materials from ceramics to textiles. This is something I try to include in my work to enhance an experience.
What are you up to now?
I am currently at the Victoria and Albert Museum as their first Artist in Residence at the Rosalinde and Arthur Gilbert Collection. This is a very exciting time for me especially with the opportunity to focus on the Gilbert Collection Gold Boxes. I hope to create a contemporary version with my digital and analogue toolbox, and I am interested to see how my recent experiences will affect my silversmithing skills.
I also continue to teach, which I love, and I find it a privilege to work with the younger generation.
Do you have a most treasured item in your personal jewellery collection?
I see qualities in various objects but they all have their own parameters and qualities and this is how I like it. I do not like comparison as it creates limitation and I need the freedom and the diversity.
Who would you most like to see wearing your jewellery one day?
I would love to see the Queen wear my jewellery. I am fascinated by the crown jewels and the whole idea of royalty. I like the fact that in the UK, royalty is not just historic but also reality. I have been inspired by the Queen and her crown jewels in my work Granny's Chips: Reloaded, a brooch which is made from my moon dust (3D printed nylon) and high quality briolette diamonds. The name was inspired by one of the Queen's very own brooches, a huge Cullinan diamond which she calls Granny's Chips. I love this sense of humour. The Queen wears a brooch very well and has a great taste in colour. I can absolutely imagine her wearing Granny's Chips: Reloaded.
What advice would you give to anyone who is thinking of pursuing a career in jewellery?
I think it is important to have curiosity, to have passion for the field and to have a lot of energy. There is a lot of competition in the industry and it is key to know who you are as a designer. It is important to have a vision and motivation to progress.
Click here to find out more about our resident craftspeople.