Drawn + Formed: Jeweller Leonid Dementiev explores the craft of hand-drawn wire
Our latest free exhibition at the Goldsmiths' Centre, Drawn + Formed, explores the craft of hand drawing gold and silver wire through both a contemporary and historic lens, showcasing jewellers, silversmiths and embroiderers using this ancient technique in ways that both celebrate and subvert tradition.
Fine jeweller and Freeman of The Worshipful Company of Gold and Silver Wyre Drawers Leonid Dementiev is among the talented makers whose work is featured in Drawn + Formed. For Leonid, wire drawing is the perfect technique for creating pieces that are beautiful and intricate yet lightweight and inherently wearable, and that reference the past whilst retaining a contemporary appeal. We spoke to him about his career so far in a recent interview.
So, for us novices, what exactly is hand-drawn wire and where would we traditionally see this craft applied?
To work with wire, first, I have to melt gold – I either take gold for recycling or I buy gold in different shapes and process it. Melting gold allows me to control its purity and karat. After melting metal, it is shaped as an ingot of gold by roll milling between steel cylinders and then I prepare it for the next step of drawing wire.
Hand-drawn wire means that the wire is carefully worked through steel draw plates that allow to make the wire thinner and shape it to be either square, round, rectangular or even star-shaped.
It can be quite tricky at times, especially if you are drawing lower karat gold or sterling silver, as these metals are not as malleable as high karat gold. It's a long, rigorous process, but the higher the karat you are working with, the more controlled and enjoyable the process is!
I love working with wire for many reasons and what I love most about it is that it gives so much freedom in designing jewellery. It is such a versatile material, with wire, I can create a large volume without it being too heavy and uncomfortable.
We've read that your grandfather, who was a famous blacksmith, had a big impact on your interest in wirework techniques. Can you tell us more about how your fascination with hand-drawing wire began and how you have pushed the boundaries of this skill?
My great grandfather was a blacksmith, working mostly with iron and other materials. He worked on a much bigger scale with iron, forging functional pieces, however, there is still some connection between his and my work. A lot of tools and techniques that my grandfather used in his practice I use today in my jewellery. The difference is that I work on a smaller scale, using gold, silver and platinum instead of iron.
I started working with wire because I wanted to create pieces that had a lot of volume, but that were not too heavy and therefore uncomfortable to wear. I found it fascinating that you can make
really strong, durable yet really light pieces. That gave me a lot of freedom and space for creativity with how I design and make jewellery.
Although I can't imagine my grandfather was using wire the same way, it's inspiring to think that he was working with similar material, in similar ways.
What inspires your work?
Often, inspiration comes from the people around me. I have met a lot of amazing and fascinating people in my career, either at shows, events, or through the jewellery industry in general. It's quite an exciting profession, and I think I'm very fortunate.
A lot of my work involves bespoke orders, and it's quite an enjoyable process to actually work with a client because you hear their stories and their own inspirations. For bespoke, I design and make not only bridal jewellery but also pieces for lots of other occasions; gifts for someone close, pieces to remember someone by or celebrate a milestone in their own lives. I would say that people and their stories inspire me a lot in my work.
I'm also inspired by traditional techniques of wirework and goldsmithing. When I launched my brand, I wanted it to echo tradition but didn't want it to become a heritage brand. My main focus is to create pieces that resonate now.
How much of yourself do you inject into pieces created on commission?
Every commission is special and what I love about them is that I get to work with a client, they have an input in the design. This collaboration determines quite a lot in the end. In a lot of instances when a client first approaches me for a bespoke piece of jewellery, they are unsure about what it is they want exactly, so I do guide them in a way, but at the same time, it's a balance - I don't want to make them uncomfortable with too many or too few choices. So, I cater this process to every client and their needs and comfort level. I think people who come to me for bespoke commissions do because my work has such a distinctive style and aesthetic.
It's a collaborative process between myself and the client, and it's about making sure we understand each other. I think that the more you're able to achieve that understanding with people, the easier it is to work on a commission.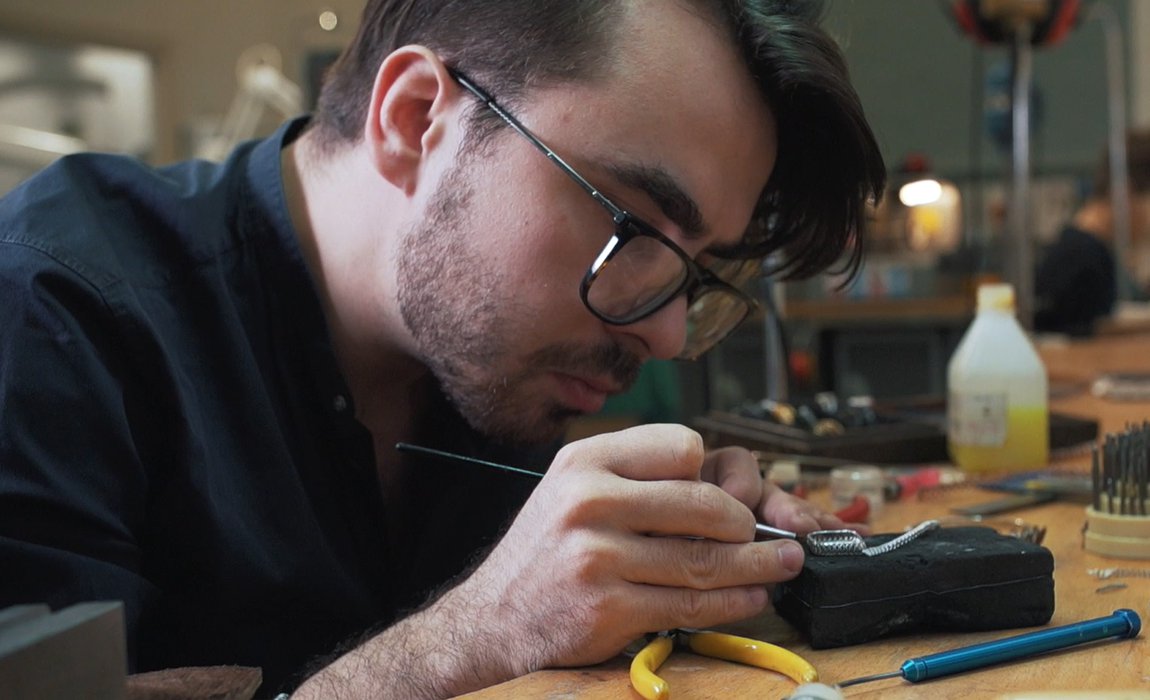 Can you tell us how you would go about designing and making one of your hand-drawn wire pieces?
To provide an example, one of the pieces that I designed for a client was a triangular-shaped bracelet I call Troyka. One such bracelet is currently on the display at the Goldsmiths' Centre, as a part of the exhibition Drawn + Formed, organised by the Goldsmiths' Centre in partnership with the Gold and Silver Wyre Drawers (GSWD) livery company.
The design of this piece was originally inspired by my mother. She loves wearing big, chunky and large volume bracelets, but she was finding them uncomfortable as they often did not sit securely on her wrist. Particularly if she was carrying a heavy bag – the handle could drop off her shoulder and drag the bracelet off, leading to her damaging or even losing bracelets. So, I designed this piece with the idea in my mind of how a bracelet could be more secure on a hand.
I designed Troyka in a triangular shape to mimic the more natural shape of a closed hand when you put a bracelet on. It fits perfectly and very securely. It isn't possible for it to fall off accidentally. One of the things I love about jewellery is that it can be really personal. To make that piece even more individual I incorporated a tiny pearl on the inside of the bangle that she had found herself in an oyster.
What excites you most about working with hand-drawn gold or silver? And has the way you work with hand-drawn wire changed over time?
It certainly has, I hope I'm getting better over the years. The more I work with metal, the more I understand it, and the more you understand the material, the more you can achieve with it. That, in turn, helps you to broaden your perspective and broaden the things that you can do with the wire.
I love doing shows, exhibitions and demonstration events. I can show off all the jewellery pieces I've designed and made and it is such a wide array of wire work.
One of the pieces that people seem to be particularly attracted to is the Cloud Ring. I believe it intrigues with the combination of wire work and the uniqueness of a pearl. For me, choosing and working with the material is really important. Showing the beauty of a pearl's natural characteristics is very rewarding. Baroque pearls are not traditionally the most sought-after of pearls – but I find them fascinating with their unique colours, lustre and forms. That is why I think people love the Cloud Rings.
The jewellery that I create is fine jewellery, however, I want these pieces to be worn and enjoyed every day and not be put in a safe. Jewellery for me is meant to bring joy, inspire and compliment one's character and strength.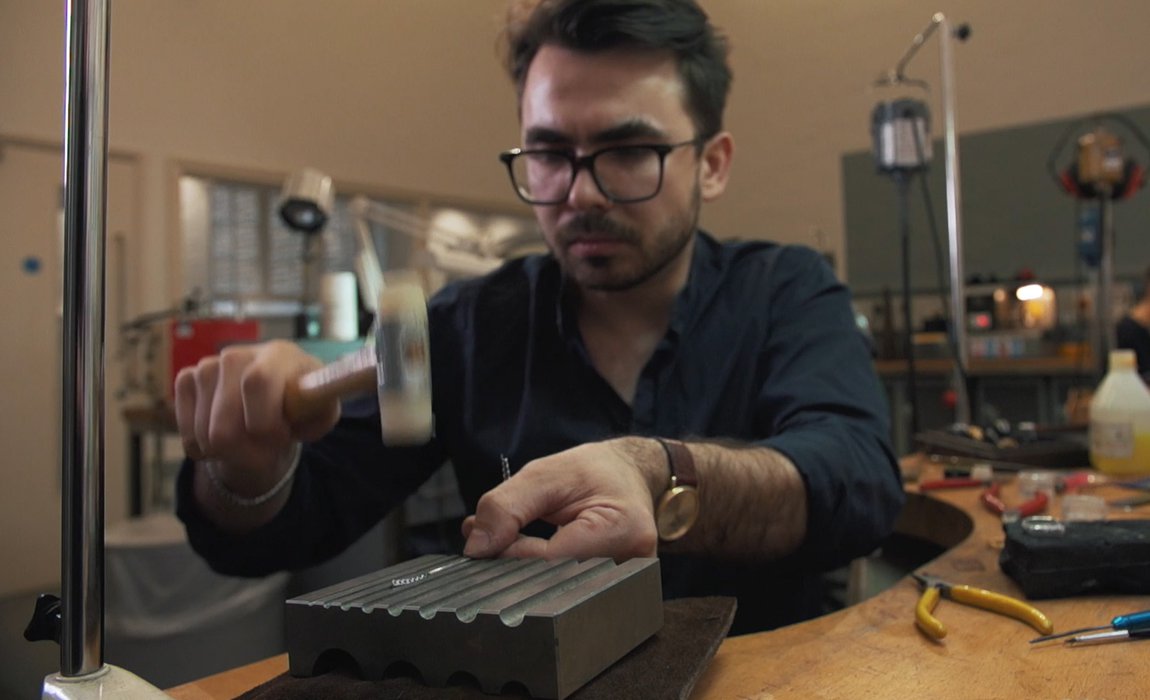 In 2020 you won The Gold and Silver Wyre Drawer Bronze Award at The Goldsmiths' Craft and Design Council (GC&DC) competition for your Eternity Waves Bracelet. What did winning this award for your wire-drawn work mean to you?
Admittedly, at first, I was quite nervous about entering the competition. For many years I saw these amazing pieces winning awards at GC&DC by the most talented designers and craftsmen, and I didn't think that my work was up to par, but my colleagues insisted that I enter.
I won the Wyre Drawers Award for my use of wire work in the Gold Waves bracelet. I was among the other winners Anna Gordon and Andrew Lamb, which was absolutely amazing because I have been admiring their work for many years and it was such an honour to be placed among them. It was a very touching and humbling experience and it really made me believe in my work more. After receiving the award, The Worshipful Company of Gold and Silver Wyre Drawers asked me to join the Livery as a Freeman, which was a real honour and privilege.
I appreciate my friends encouraging me to enter the competition because it highlights one of the great things about this industry - it is such a supportive community.
Drawn + Formed: Contemporary Work with Gold and Silver Wire is on show at the Goldsmiths' Centre until 15 September 2022. Open Monday until Friday, 9am to 6pm, and is free to enter.
For more information on the Worshipful Company of Gold and Silver Wyre Drawers visit www.gswd.co.uk