Interview with Goldsmiths' Company New Designers 2015 Winners Karen Westland and Ieva Mikutaite P1
We continue our talk with the Glasgow School of Art graduates Karen Westland, who won the New Designers Goldsmiths' Company Silversmithing Award, and Ieva Mikutaite, who won the New Designers Goldsmiths' Company Jewellery Award in 2015.
Both of you have mentioned traditional techniques and 3D printing, do you think that technology will change traditional techniques or do you think there is going to be a place for traditional techniques? How do you think things will change?
Ieva: I would like the traditional techniques to survive because I think it's important but at the same time, everything is changing, technology is evolving every day. It looks like eventually we might lose the traditional techniques because there is demand and people want to get things done as quickly as possible, as easy as possible and cut the cost as much possible and technology allows that. So maybe not in our lifetime but in a few 100 years we might lose traditional techniques.
Karen: I am a bit more positive I think that traditional techniques will always continue. My main concern is that institutions and universities, the moment they start introducing too many of these new techniques, they start losing all the people that know all these traditional techniques with the experience and that knowledge to actually teach young people how to do traditional techniques. I think that's that biggest problem or my main worry within the industry cause I think trying to find the accessibility for young people to actually meet professionals silversmiths or people in the trade who specialize in particular techniques it's a really difficult thing to do. It's only a few people who really get the opportunity to see those people and I think it would be really nice if it would be something organised by somebody to have projects to see engravers, technical things or general silversmiths.
Shall we focus on what you are doing this week? You turned up with an idea of what you wanted to get out of this week's work experience in Clive Burr's workshop, as part of your award. What are you doing while you are in the workshop?
Karen: I am boxsmithing, because I knew that was something that Clive specialized in and it is something I have tried in the past and struggled to understand even the precision involved and just connecting two pieces together to actually fit and sit properly. I also ask a lot of general questions not just about the projects we are working on. There are other things like cold connections on a larger scale on silvermsithing I would really like to know more about, so he is the man to ask.
Ieva: I am focusing on stone setting on a small scale because I thought it would be interesting to incorporate some stones into my work and Paul is the right person to ask all of these questions and so we are starting from the basics because I don't have much experience. I have done a couple of samples in the Art School and then a few on a bigger scale but on a small scale it's a whole different world and we were also trying to construct rivets in different ways so that to allow for me to set stones into the actual rivets. It's all around my pieces and how I could improve my pieces and make it more interesting.
What are you plans for the future?
Karen: This year I will learn more traditional techniques and I will still have that support to develop my craftsmanship and afterwards I would like to set up a studio in Scotland and try to develop my work more. I will also try to work part time in the trade as well to continue to build up experience. I think it's important to stay connected with the people that have a business mind.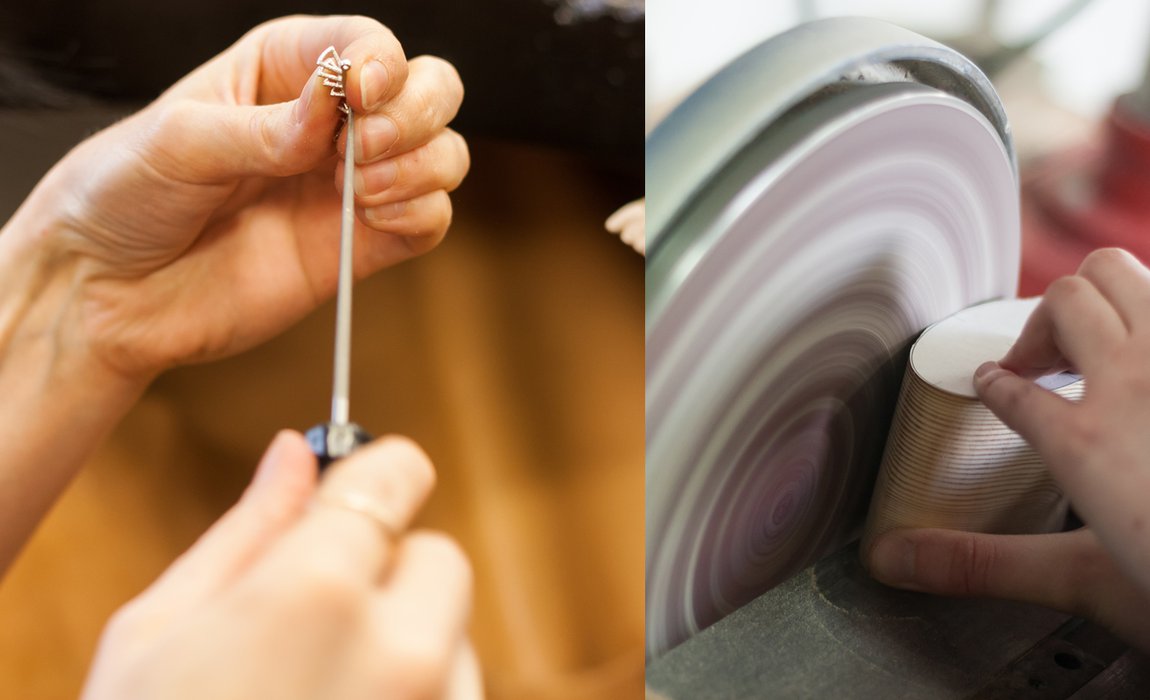 Obviously you are in existing businesses you might pick up a few tips and tricks on how to run a business?
Karen: I think just setting up in Clive's studio helps as there are so many things they are doing business-wise to grow that even when I am working I am learning so much like how to deal with clients. I am learning so much even before I started asking questions.
Ieva: I am an artist in residence at the Glasgow School of Arts at the moment so I have access to all the facilities that I need and I can develop my collection further and improve things. I also have many other ideas I want to explore other mechanisms along the lines of kinetics so I am kind of sorted for the year and after that I will see how it goes and I might stay longer if they keep me or I might look for another residency. I would like to set up my own workshop eventually but I don't think it will happen very soon but I just have to work for it.
How will the support of The Goldsmiths' Company and the New Designers Award impact your career or has it already impacted your career?
Ieva: It definitely has already helped. I am so busy at the moment making stuff for galleries. I did not have to look for anything they came to me and I am just busy producing things so after that maybe I will make more things and sell them myself or contact other galleries but after the award I did not really have to do much. I am so busy just because I won it and people kept approaching me that was really helpful.
Karen: I think it really helps for media and publicity so it's been really good for promoting yourself and your new business I suppose. It's really good to have the reputation of and the support of The Goldsmiths' Company so early in your career. 
The Goldsmiths' Centre is exhibiting at New Designers during Part One (29th June-2nd July). We can be found on stand S8. Be sure to visit and have a chat with us if you need career guidance, would like to find out more about the Goldsmiths' Centre, the Goldsmiths' Company, the London Assay Office, or to ask any questions you may have about hallmarking and Goldsmiths' Fair. More information on New Designers can be found here. We look forward to seeing you there.