Shine 2019: An Interview with Harriet Morris
For four years, Harriet Morris was immersed in the colourful jewellery scene of San Miguel de Allende, Mexico. Now back in the UK, she hopes to form new connections in the Goldsmiths' Centre's creative community. She has caught up with us this week about being chosen for our talent showcase, Shine 2019, and taking part in our business incubation course, Setting Out, next year.
Can you tell us a little bit about your journey into the industry?
My background is in fine art and set design. From about 2011, when I was a member of the Design Team for the London Olympic Ceremony, I assisted different costume and set designers. And I found that in those industries, you're either behind a desk or in the workshop – it's one or the other. And I wanted to do both, so I found that quite frustrating.
I started making jewellery in my spare time, mostly out of found objects, and realised that I was getting a bit obsessed. That led to me enrolling at Kensington and Chelsea College, where I was taught by Kelvin Birk, who I still occasionally take classes with at his school, K2 Academy at Cockpit Arts. He's the most amazing, inspiring teacher.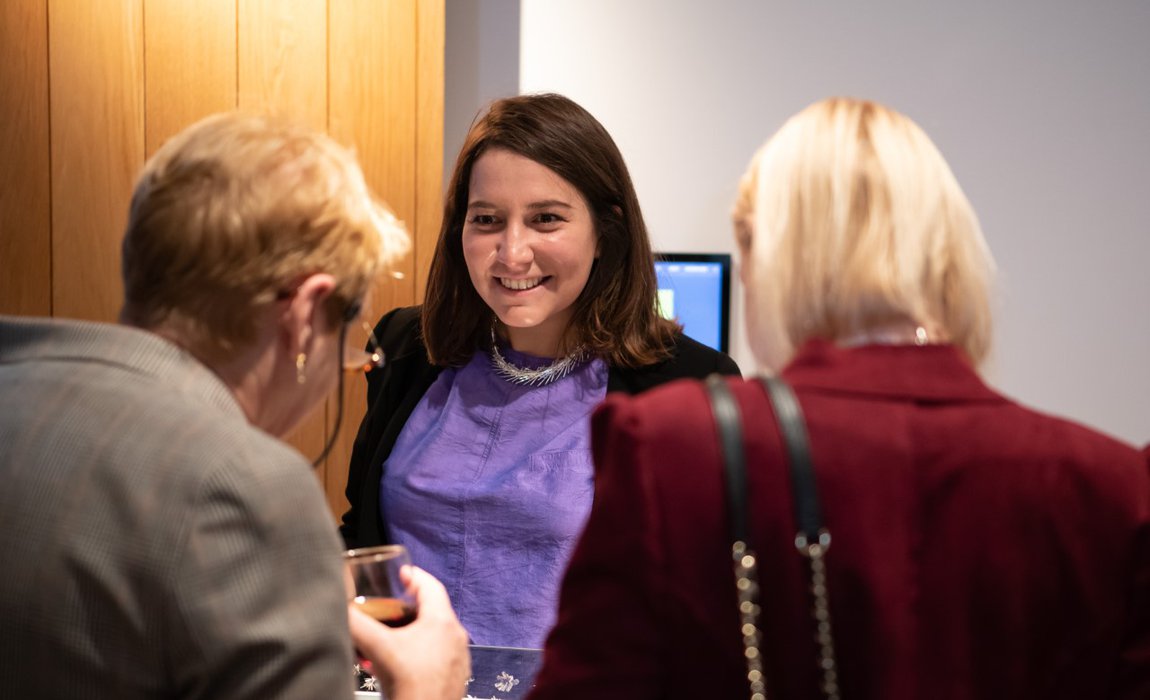 After that, I went to study in Mexico, where I lived for the next few years. I fell into a community of craftspeople and small businesses in San Miguel de Allende, in the central highlands of Mexico. Here I was taught by the man, the legend Billy King at his school, Sterling Quest. These were very precious years where I was able to start my own business, and learn as I went along in a way that would have been much more difficult in the UK. Quite quickly I was lucky enough to be represented by Yam Gallery - a small, ambitious contemporary art and jewellery gallery in San Miguel de Allende. Their support has been invaluable and they continue to show my work in their space and at Zona Maco Diseño in Mexico City. This city is booming with exciting contemporary design and it was thrilling to be a part of that.
In 2018 I returned to the UK and enrolled at Bishopsland Educational Trust. This has been an invaluable year of consolidating my skills, learning new ones from Master silversmiths and getting to know the industry in this country. It also introduced me to the Goldsmiths' Centre and the incredible support that the Centre provides to young businesses.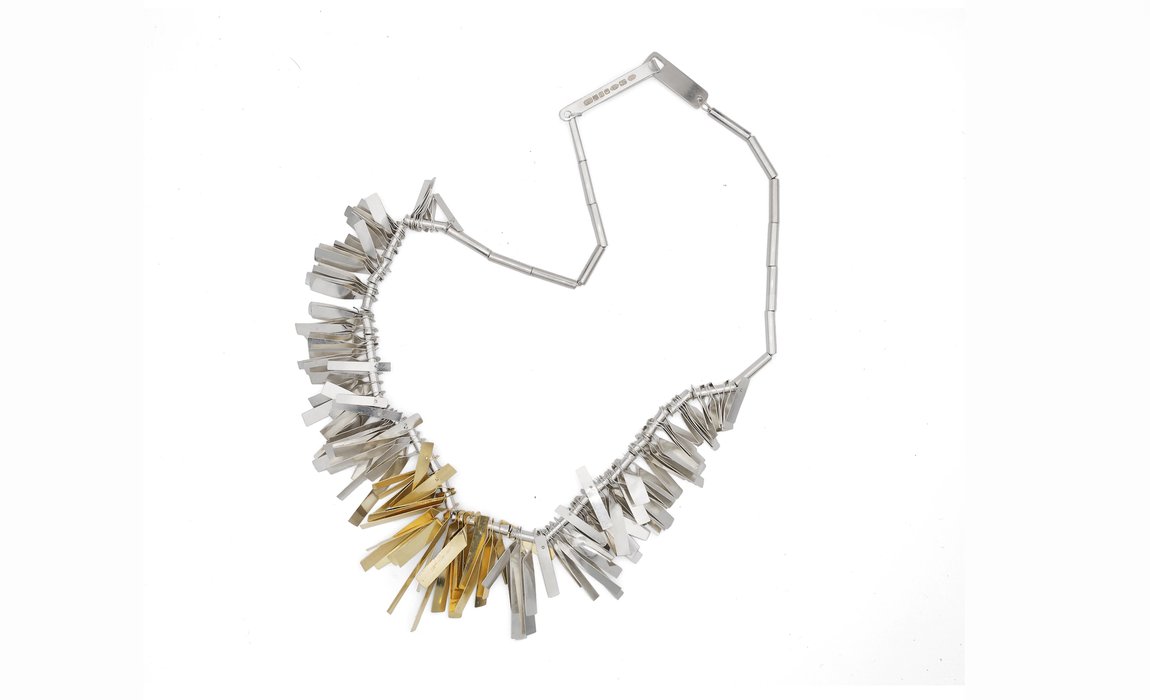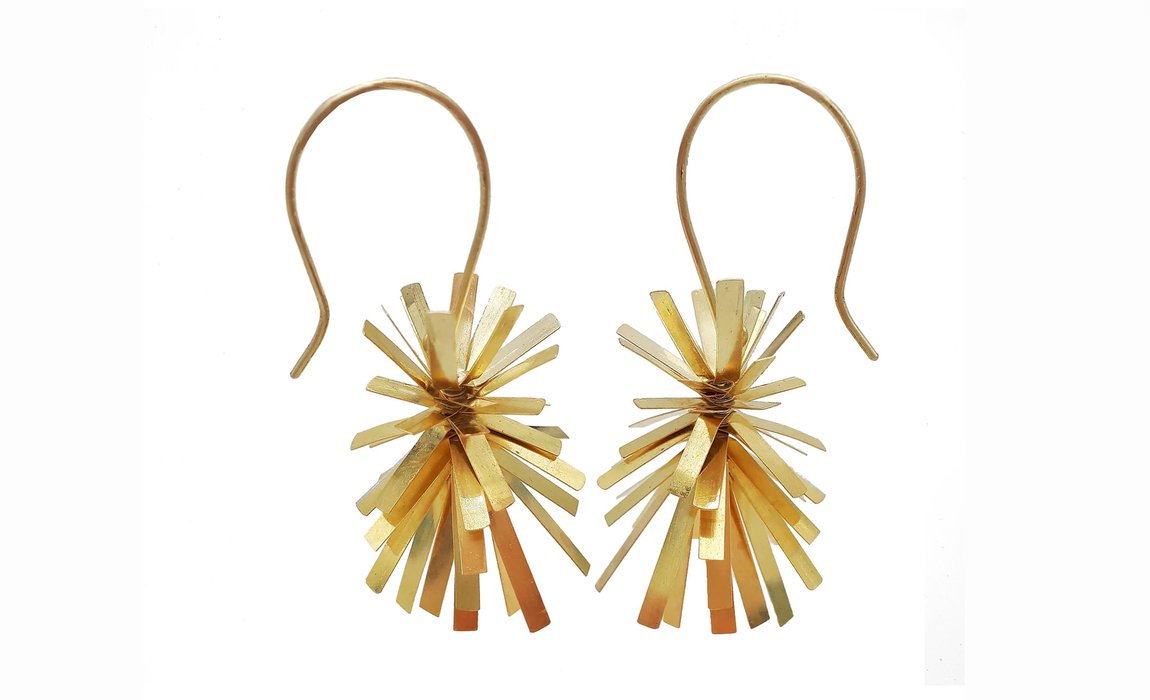 What does being chosen for Shine mean to you?
It means so much! I had to leave Mexico for reasons beyond my control, and that was a big upheaval. I had built my business in the jewellery scene there, I was growing a reputation, I had a community of makers around me, and I lost all of that quite suddenly. Coming back, I was very nervous, so being chosen for Shine, it's almost like being welcomed back. I find it quite moving; having the support of the Goldsmiths' Centre, where I will also be doing the Setting Out course, feels amazing. I feel very, very grateful, I feel supported, and I'm really looking forward to being part of a community again.
How would you describe your design style?
I would say it's is bold, decorative, and irreverent. The irreverent part – that's very important to me. I want to surprise, and I want to challenge the expectations around jewellery.
What kind of things inspire you?
I have been lucky enough to have a broad education in the arts - from both my time as a student at Cambridge University where I studied History of Art, and also in my previous work in set and costume design. This has left me with a broad range of images and attitudes to draw on - from earnest fine art to sensationalist pop concert design. And I am really enjoying deliberately removing the sense of hierarchy in art that was very much a feature of my art education. A doodle on a teenage diary could be as inspiring to me as a Titian painting - and I am finding that freedom so fun. Can you tell us a bit about the collection you'll be d
Can you tell us a bit about the collection you'll be debuting at Shine?
This collection had its beginnings very much in Mexico. I started it when my skills weren't that developed, and I got very interested in the processes involved in jewellery making. I was fascinated by soldering – how the heat, the solder and the silver interact, how the metal gets swept into the heat and how it almost moves, depending on your control of the heat.
So that process was the beginning of this collection, but it has come quite far from that point, though the pieces still have roots in that idea of playing with process. They've become more about the body and fluidity, taking an element like say, the process behind a rivet, and distilling that, seeing how far you can reduce and push it. I want the processes to be visible in the pieces, because I think that gives them an energy and a dynamism that is sometimes missing in fine jewellery.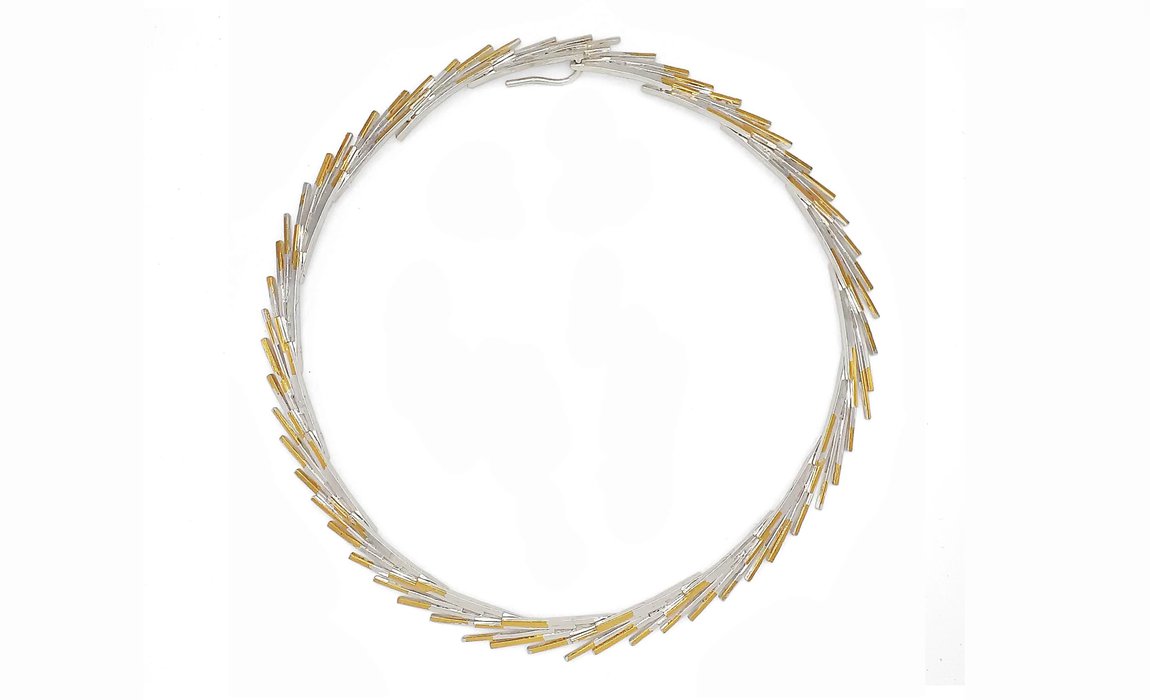 Do you have a favourite piece in the collection?
Probably the Blast Wreath Necklace, which is the largest riveted necklace, because it was a real challenge to make. It's made from one link repeated, and I wanted to see how much work that one link could do. It curves in three different directions in order to fit nicely around the neck, so though it looks spiky from the outside, which I like, it's comfortable. When taken off, it looks almost like a spine.
It does everything that I want it to do; it's wearable, it's high impact, and it's based on one idea.
What kind of person do you expect to be most drawn to your pieces?
I find this question difficult – I need to get better at identifying who it is I'm decorating! I think it's probably someone like me, who might not necessarily wear jewellery on a day-to-day basis but will if they're getting dressed up for an event. It's an attitude of all or nothing – go big or go home. So, I think these pieces will attract someone who wears jewellery to make a statement and get attention, and probably someone who has an interest in art and design.
What are you most looking forward to about Shine?
Meeting everyone! What I find lovely about this group of makers is that everyone is so different in terms of their pieces, their style, and even the market they're reaching. It feels like a broad and dynamic choice of makers, and I can't wait to meet everyone to learn about their little part in the industry – where they've come from and how they create. Having come from a very low-fi way of working, out of a small workshop in Mexico that was quite limited, I feel like I have a lot to learn – and the best way to learn is from each other.
Harriet's collection, Illuminations, is now available for purchase via our eShop - perfect for a bespoke Christmas present!