Three Goldsmiths' Company Apprentices win prizes at inaugural Georgian Group Livery Craft Awards
Many congratulations to current Goldsmiths' Company Apprentices Daniel Munn, who is honing his skills in the craft of enamelling at Munn Enamelling, and Yasmin St Pierre, who is acquiring the skill of lapidary at Holts Lapidary as well as former Goldsmiths' Company Apprentice Eleanor Woolacott, who completed her training in diamond mounting at C A Treble in 2018! Last night, on 9th May 2019, all three were awarded a top prize, presented by Clive Asletand the Georgian Group's President The Duchess of Argyll, at the inaugural Georgian Group Livery Craft Awards at Goldsmiths' Hall.
The Georgian Group Craft Prize is intended to celebrate and promote excellence in those historic crafts and heritage works supported by the Livery Companies of the City of London and their associated charities. Exemplary conservation work, the creation of new work using traditional skills or techniques, or work in the 'spirit' of the Georgian period were considered for the prize by a prestigious judging panel. 
The judges, who included the Georgian Group's Chairman, Christopher Boyle QC; its Secretary, David Adshead FSA; Patricia Lovett MBE (Chair, Heritage Crafts Association); and Suzanne Galloway (Georgian Group & Upper Warden, Glaziers' Company), awarded ten prizes for each of the fields of endeavour, represented by the six participating livery companies.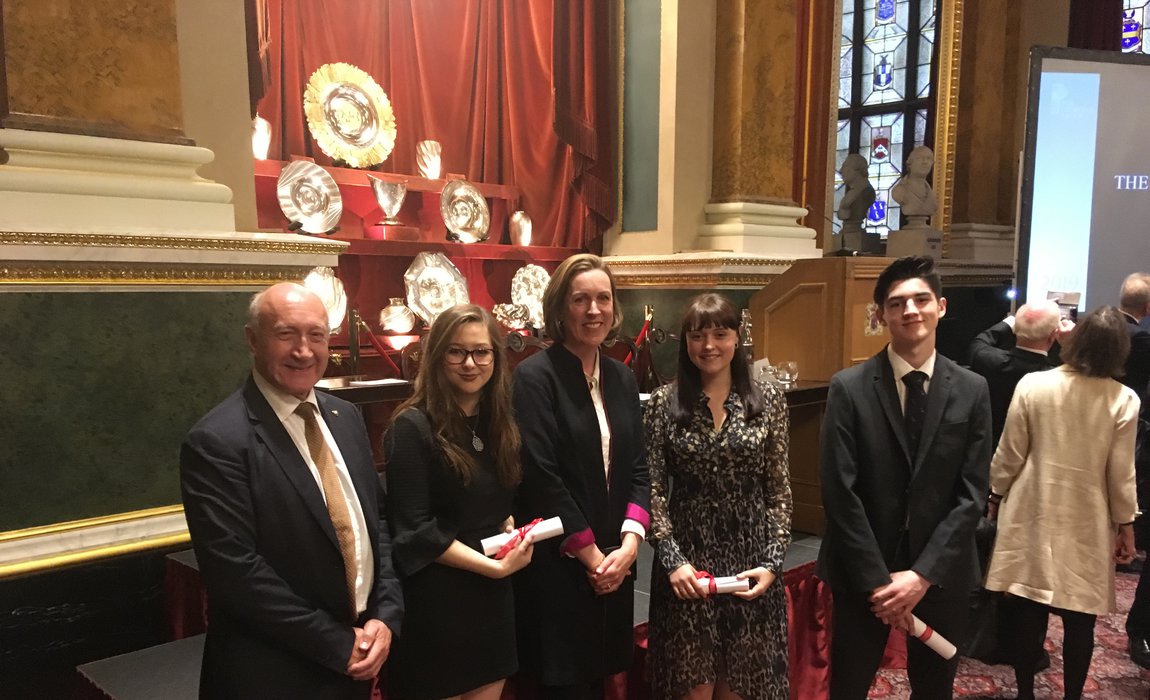 Daniel Munn, who is the Goldsmiths' Company's first enamelling apprentice, is currently indentured with his father, Paul Munn, in his first of four years' training. Enamelling is a historic skill, seen commonly throughout the Georgian period, and the numbers of practicing craftspeople is dwindling. As part of his training at Munn Enamelling, Daniel is learning a range of enamelling and engraving techniques and is working on flat and 3D pieces. Much of the imagery within Daniel's work contains popular Georgian motifs and inspiration such as nature, ribbons and foliage. He has also demonstrated his ability to enamel over recessed or carved textures, a prevalent Georgian practice. 

Yasmin St Pierre, who won one of the awards and is in her third year as an apprentice at Holts Lapidary, represented the ancient skill of lapidary. This niche craft has a strong historic link focusing on traditional skills. Many of the hand skills being acquired by Yasmin were used throughout the Georgian period and she is continuing to practice these alongside more modern techniques and technologies. She is learning how to cut and carve a wide variety of natural materials from coral, agate, turquoise, amethyst, topaz to carnelian, which were all popular during the Georgian period when coloured gemstones were widely used alongside diamonds.  

Georgian goldsmiths were also highly skilled in a range of techniques which allowed them to produce intricate designs using a range of materials. In 2017, whilst in the third year of her Goldsmiths' Company apprenticeship Eleanor Woollacott made an elegant pearl and silver necklace with silver snap catch. This choker length piece is reminiscent of the Georgian style and demonstrates her high level of traditional hand skills and attention to detail. She won the Catherine Best and Junior Gold Award for the piece at the 2017 Goldsmiths Craft & Design Council competition. Throughout her training Eleanor practiced and refined a range of traditional skills and knowledge which have enabled her to produce high quality work to a customer's, or her own, designs. 
To find out more about the Georgian Group, visit www.georgiangroup.org.uk