Business Catalyst (Small) Grants
Do you want to grow your business? We are looking to support you and up to 10 businesses per year with a Business Catalyst (Small) Grant of £1,000 (including VAT), if you can demonstrate creativity, and present how these funds could accelerate you to the next phase of your growth. Whether you sell direct to consumers or work within the trade, our grants can help you to get your plans off the ground, providing you with essential equipment, marketing tools or specialist knowledge.
£1,000 grants for sole traders and small businesses
Grant amount: £1,000 (including VAT)
Applications close: Sunday 21 April 2024, 5pm (Round 2) 
Number of grants available: 10 per year 

Like to know more? Read our Guidelines and FAQs or just to talk to our team or join one of our free Q&A sessions! All booking links can be found at the bottom of this page.  
Click Apply now to start your application for our next grants round. 
What are Business Catalyst (Small) Grants?
We believe in inclusivity and social mobility in the jewellery, silversmithing and allied industries. Our £1,000 (including VAT) Small Business Catalyst Grants are open to applicants who are resident in the UK and have recently completed, or have undertaken a formal mentoring programme, business consultancy or business diagnostic programme, such as (but not exclusive to) the Goldsmiths' Centre's * in the past 12-months. These grants have been funded by philanthropic giving from current members of the Goldsmiths' Company.
*Our Business Diagnostic and Advice sessions for Jewellers and Silversmiths at the Goldsmiths' Centre are free to attend, if you are experiencing financial difficulty. To prove your eligibility, you will need to apply for one of our Access Grants. Completing the application form for our Access Grants only takes 5 minutes and we are able to guide you through the process if you have any questions.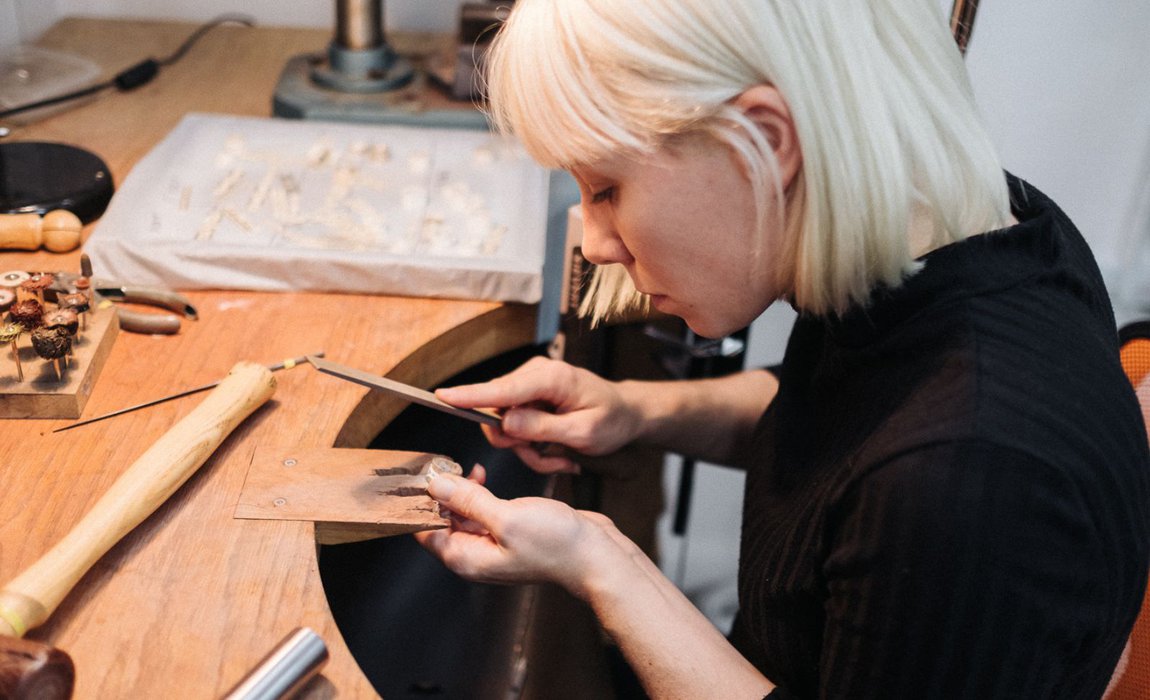 I get bespoke commissions for engagement and wedding rings. A client comes and the world is their oyster – they could choose anything. It takes a long time to make somebody happy when there are no boundaries. I wanted to develop a core collection that people could customise slightly.
What can the grant be used for?
A Business Catalyst (Small) Grant will help you to grow your business and move your plans forward to the next stage. Funds must be used within 12 months of being received. You can use your grant to: 
Purchase new equipment, such as new IT equipment or machinery and tools to produce a new product. 
Develop new products or services, by, for example, realising a digital marketing strategy, such as new brand identity, website development or object photography.  
Adopt new processes and new ways of working, such as adaptations to your workshop or access to mentoring to realise a new production process or operation. 
Your proposal must demonstrate a commitment to successful business growth – whether that is an increase in sales, productivity or profitability, or the potential to create new employment opportunities or an improvement in business processes. 
If your application is successful, you will be asked to provide a short report to explain how the grant has been used and what impact it has had on your business.
Colourful pieces of jewellery never go on unnoticed. I think introducing colour to my work will help it become more distinctive in the jewellery market. I need something that stands out more, that's more eye catching.
Who can apply?
You can apply for a grant if you have completed a formal mentoring programme, business consultancy or business diagnostic programme, such as (but not exclusive to) the Goldsmiths' Centre's Business Diagnostic and Advice for Jewellers and Silversmiths session within the last 12 months.
Please apply if you:
are on the pathway to being self-employed/sole trader or run a micro-business in the jewellery, silversmithing and allied industries.
are located and have/will have a trading address in the UK. You must have a UK bank account in the exact name that you are applying in.
typically, we would expect the business to have a turnover up to £75,000.
dedicated funding will be set aside for applicants experiencing financial difficulty (evidenced through eligibility for government benefits) and applicants who identify as belonging to an under-represented or under-supported group within the industry.
Our team at the Goldsmiths' Centre is aware that specific groups are systematically under-supported or under-represented in the UK's jewellery, silversmithing and precious metal industry. We have therefore made dedicated funding available to applicants who have lived experience of the groups listed in the Guidelines and FAQs. 
Got more questions?
To find out more about the application process and the grant itself, read our Application Guidelines and FAQs below, or book yourself into to a 1-2-1 session with our team: