Training and Qualifications: How to Start in Jewellery, Silversmithing and the Allied Industries
There are very few skill-specific qualifications within the jewellery, silversmithing and allied industries but whatever area you go into, you will benefit from having an understanding of, and interest in, working with precious materials. When considering your options, it is useful to know that there are various training options including apprenticeships and short or full-time courses at colleges, universities and training centres. You can find out about a range of these different options and potential routes into a creative career within the goldsmithing industry below.
Apprenticeships
There are various types of goldsmithing apprenticeships available within the UK varying in length, qualification level, subject area and geographical location. If you are interested in doing an apprenticeship you would benefit from contacting different providers in your area to find out more information about the different apprenticeship schemes and any eligibility criteria. The information below outlines some of the options:
Traditional Apprenticeships
A traditional apprenticeship, such as the Goldsmiths' Company Apprenticeship Scheme, will provide you with practical, work-based training for between 3 and 5 years under the guidance of your employer or Master. Training will take place within the workshop of a goldsmithing business and should be full-time i.e. a minimum of 37.5 hours per week. You may also be enrolled with a college or training provider for additional training and to work towards a qualification. You should be taught a range of relevant skills over the term of your apprenticeship and these should start with the basics and build in complexity over-time. It is normal to have a training plan or syllabus which lays out the practical training you will be expected to complete using a range of materials, tools, equipment and techniques. By the end of your apprenticeship you should have an in-depth knowledge and practical experience of your specialist area and be confident to move on into becoming a full-employee within your chosen job role.
The Goldsmiths' Company Apprenticeship Scheme is a traditional apprenticeship dating back almost 700 years. During their time Goldsmiths' Company apprentices get 19 days of day release training per year, work towards a level 4 qualification and will become a Freeman of the Goldsmiths' Company upon successful completion of their time. At present the scheme only operates within London and the South-East and only Freemen of the Goldsmiths' Company are eligible to take on an apprentice. Applicants must have already completed one year of work experience either via the Goldsmiths' Centre Foundation Programme or within in a workshop prior to starting on the scheme. For further information see The Goldsmiths' Company Apprenticeship Scheme.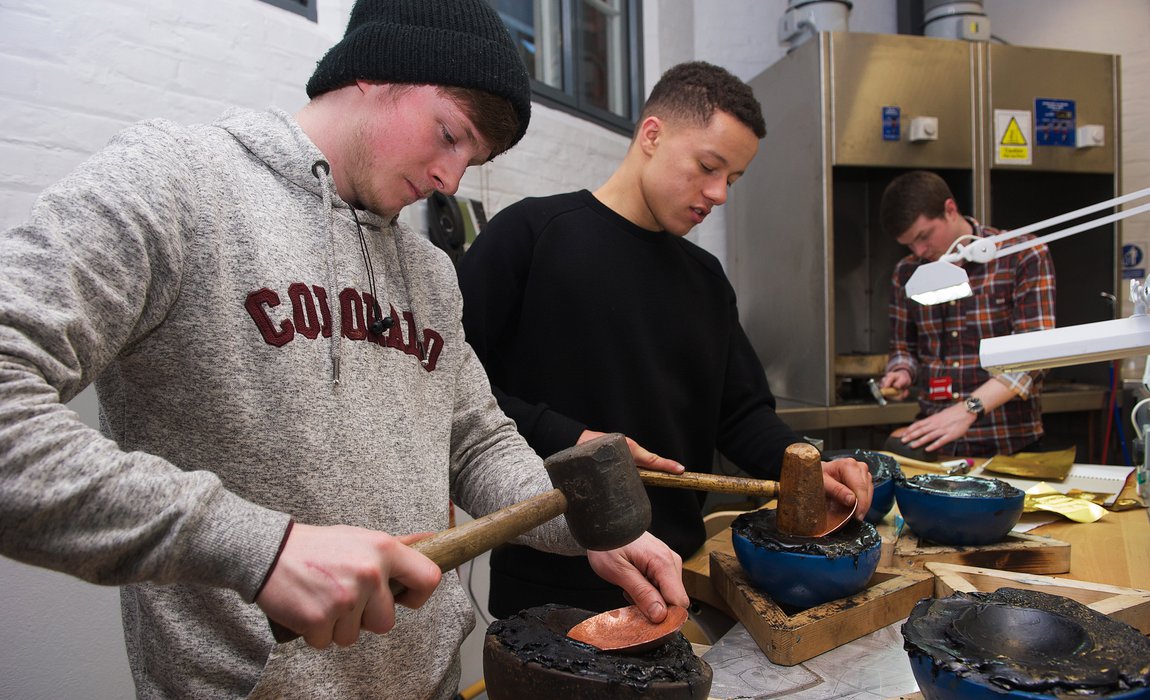 Trailblazer Apprenticeships
The Institute for Apprenticeships and Technical Education are working to develop apprenticeships which support employers, potential apprentices and the UK economy. These apprenticeship standards, called Trailblazers, are being developed in conjunction with employers and industry organisations at present. A Trailblazer Framework for Jewellery, Silversmithing and the Allied Trades has recently been approved is expected to go live imminently across England and Wales. Trailblazer apprentices will work towards level 3 vocational qualifications and on average they will take 2 years to complete their apprenticeship. More information on organisations providing Trailblazer will be provided as it becomes available.
As an apprentice you are employed by a company and must be paid a wage for your work. Wages can vary depending on age, what year of an apprenticeship you are in and the company that you are working for. The current average wage for a Goldsmiths' Company Apprentice starts from approximately £13,000 per year and raises up to an average of £18,000 by the end of the apprenticeship.
The following organisations run apprenticeship schemes or can provide you with further information on this route: 
The Goldsmiths' Company Apprenticeship Scheme
UCAS – Apprenticeships & Traineeships
UK Government website 
British Academy of Jewellery
City & Guilds
Foundation or Introductory Courses
When you are starting out you may not yet know what area you want to specialise in or even what skills you are good at or enjoy. There are multiple courses across the UK which can introduce you to the goldsmithing industry normally through workshop or classroom-based teaching. These courses normally last for 1 or 2 academic years and often lead to a nationally recognised qualification. This type of course is a good way of trying out a range of subjects and can help you build a portfolio of skills which you can add to in the future. Some of these courses may be a pre-requisite of other training routes such as a degree.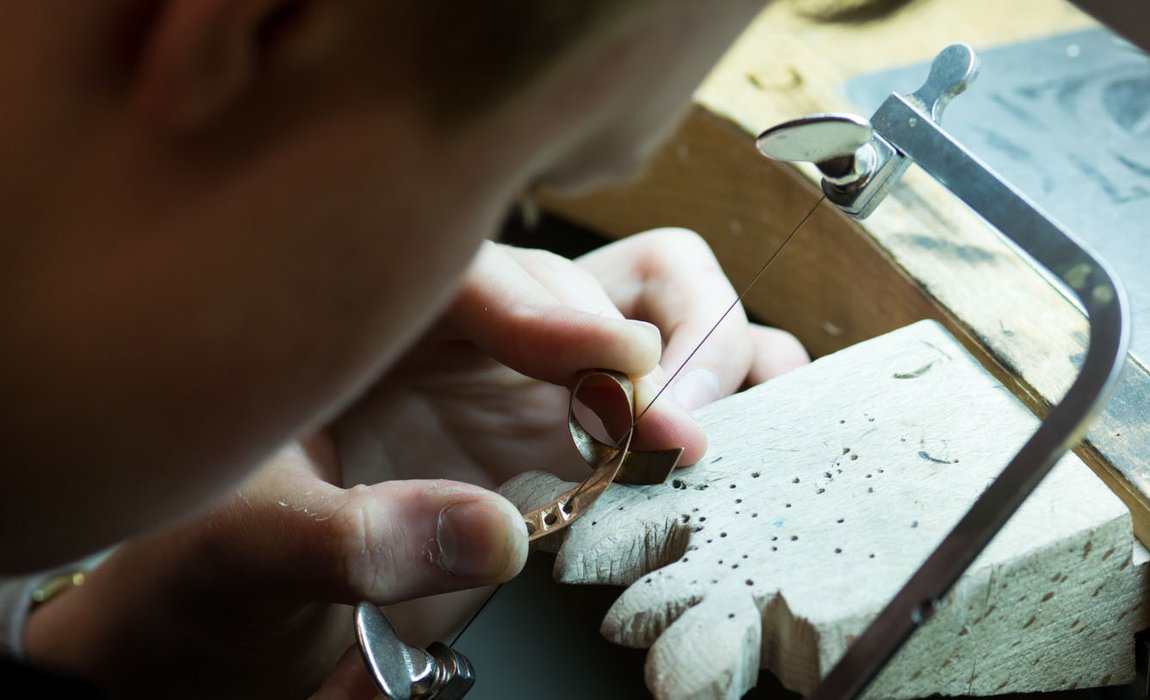 Higher National Diploma (HND) Courses
An HND course in jewellery and silversmithing will allow you to learn a range of bench skills and receive an introduction to related technologies in a more hands-on way than if you were studying for a degree. These courses often focus on preparing you for industry and the work produced by HND students is often more commercial than work from a Degree student. Many HND courses will work closely with industry partners on specific live projects and will give you the opportunity to study and gain practical skills in a shorter amount of time than a degree as they are often 1 or 2 years in length. A HND is equivalent to the first 2 years of a Bachelors Degree and normally allows you to progress onto a full Degree or specialised top-up Degree. 
HND courses are normally based within a college or university and will charge you a fee. These can be cheaper than a 3-year degree, but fees are set by the institution and you should check with them directly for current information. Student loans may be available to support you study. 
The following organisations offer HND programmes in jewellery and silversmithing or can provide you with further information on this route: 
UCAS - Undergraduate
UCAS - Money 
UK Government – Student Finance
Student Loans Company 
Birmingham City University School of Jewellery
City of Glasgow College 
Fife College 
Glasgow Kelvin College
Degree Courses
Silversmithing and jewellery degree courses are offered all around the country and will teach you about precious metals as part of their syllabus. The focus of a degree course is to experiment with materials, processes, machinery and technology in order to develop your own approach to creative problem solving. Alongside practical skills you will be encouraged to question and challenge everything with the aim of pushing the boundaries of design, materials and creative thinking. Degree courses are for you if you enjoy a mixture of theory and practise alongside developing your individuality. Students who learn via a Degree should be comfortable with self-directed study.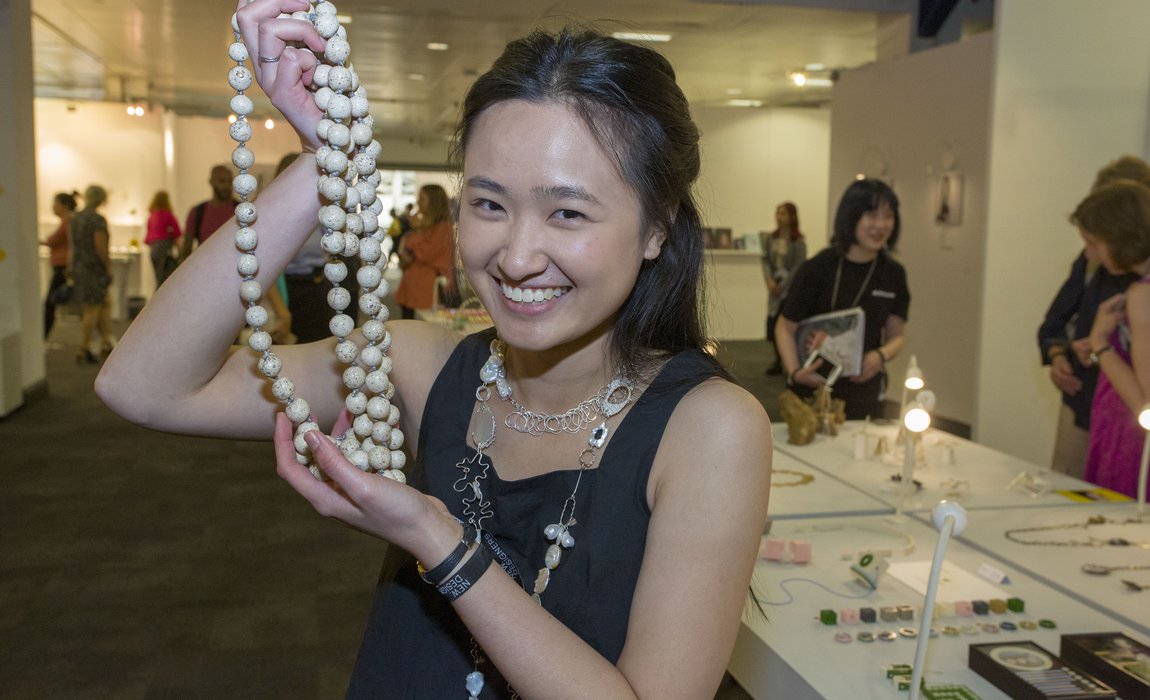 Masters or Postgraduate Courses
Skill-Specific Courses
Some jobs within the goldsmithing industry require you to hold specific qualifications within the subject area. These include roles as a Diamond Grader, Gemmologist (gem stones), Horologist (watches and clocks) or Valuer. These roles require specific skills and often require you to become a member of an industry body or to complete additional training in order to remain aware of the current industry guidelines. Some of these skills can be learnt remotely online, within a classroom or practically within a workshop. It is likely that you will have to demonstrate your knowledge, practical skills and ongoing development to the subject in order to do your job. 
Skill-specific courses will normally charge you a fee, but some employers may cover this for you in return for you working for the company. Fees will vary dependant on level and type of study and some industry organisations may require you to pay to retain your membership with them. You should check with the individual bodies for current fee information. Some organisations may offer scholarships or bursaries to support you study. 
The following areas and organisations run courses or can provide you with further information on the various roles:
Short Courses
Within the goldsmithing industry there is always something new to learn or skills that can be developed. Short courses can run from a couple of hours one evening through to a day a week over a period of time. Short courses are a good way of trying out a skill or subject to see whether you like them without spending a lot of money or time. Craftspeople and businesses at all levels can benefit from learning via short courses as it can allow you to remain current, develop your practise, expand your knowledge, understanding and confidence or even just spend some time trying something new.
There is a huge variation in short course fees dependant on the skill being taught, duration of the course and whether there is any sort of accreditation involved. You should check with the individual training provider for current cost information. 
There are many short courses available and the following Colleges, Universities and Institutions run short courses or can provide you with further information on them: