Silversmith
Silversmithing covers the production and manufacture of pieces of silverware made in precious metals.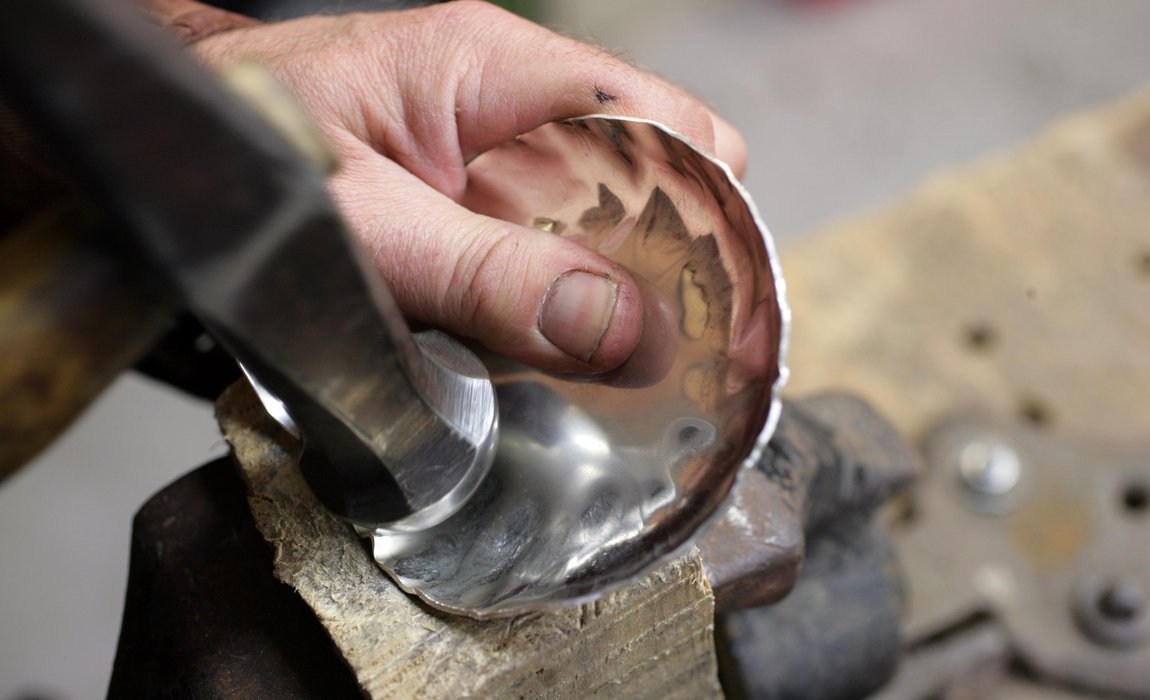 A silversmith is a metalworker who crafts objects from silver  or other precious metals. Typically, a silversmith will aim to create larger scale work for functional and/or decorative purposes for example tableware, flatware, ecclesiastical pieces or functional vessels.
"The antibacterial qualities of silver meant that historically, silversmiths outlived other craftsmen such as furniture makers, potters, clothworkers, lace makers etc."
What personal attributes are useful for a silversmith?
To be a silversmith you need to be: 
Interested in craft and design 
Interested in working with precious metals 
Good at working with your hands and take pleasure in practical work 
Able to solve practical problems effectively 
Good eye for detail 
Creative and artistic – the ability to draw will be advantageous 
A good listener and communicator – you might receive instruction from a client and will need to work with them to correct any design flaws  
Willing to collaborate – as a trained silversmith it is unlikely that you will be able to carry out every skill required so might work with other craftspeople to complete a piece of work 
Patient and self-disciplined with the ability to work on a project for prolonged periods of time 
Exceptional silversmiths are excellent communicators because they are able to understand their clients briefs and explain how they will work on a commission.  An accomplished silversmith will need hours of practical experience on the work bench. They are creative not only when they are producing their own designs but also when coming up with practical solutions to design problems. For example, they might decide to create their own tools to speed up a process.
Many silversmiths will also be specialists in a technique, such as raising, sinking, chasing or a certain type of item such as tea pots, trophies or boxes. This allows them to set themselves apart from the competition. Exceptional silversmiths are also committed to learning from more skilled silversmiths and are constantly improving their skills. 
What will my working life be like as a silversmith?
Silversmiths work in a workshop or studio, normally from a work bench. You can either be self-employed or employed to work for a company. If you work for a company you are part of a bigger team, will earn a wage and have a fixed working schedule, normally from Monday to Friday. 
If you are self-employed you may have a workshop at home or share with other craftspeople. As a self-employed silversmith you might be approached by a company or individual with designs that need to be translated into metal. Alternatively, you might decide to design and sell your pieces. Designer-makers can either sell their pieces through a gallery or retail space or they might decide to sell them directly to customers at craft fairs for example. In this case you will need to develop good business, finance, marketing and interpersonal skills.
Within your work you must be able to adhere to industry health and safety requirements; understand the safe storage, handling and disposal of harmful materials used in the workshop including the risks involved; know how to safely operate and maintain your machines and tools and learn how to adequately process precious metals their alloys and solders.
As a silversmith you will use skills and techniques including making items in accordance with drawn, verbal or written Instructions to the dimensions given; applying relevant silversmithing skills and manufacturing techniques using the material supplied; sawing; filing; shaping; box work; fitting; hammering and raising; soldering; annealing and assembly. You will also work with other craftspeople including spinners, enamellers, engravers and polishers.
You can expect to work with all carats of gold; silver; base metals; solders; and gemstones. And you will learn how to use tools including files; measuring and marking-out tools; soldering equipment; a range of hammers and mallets including raising, blocking, caulking, planishing and sinking hammers; vices; pliers, saws; snips; emery papers; a loupe; and hand tools. You should receive training in all of these as required. 
A day in the life of a silversmith - Jessica Jue
A day in the life of a silversmith - Sophie Chapman
Training or qualifications: How can I become a silversmith?
There are some silversmithing specific courses available at varying levels. Many trade silversmiths will get their training via an apprenticeship whereas designer-silversmiths will typically pursue a university degree as it will give them the theoretical and practical skills needed. Whether you pursue an apprenticeship or university degree, practical training is vital.
There are several ways to start out in the jewellery, silversmithing and allied industries. To become trained as a silversmith you may choose to go straight into a job, apprenticeship or relevant course at a college, university or training centre. There are very few skill-specific qualifications available, but many courses provide an introduction to a range of creative skills. To find out more about different options and your potential route into a creative career within the goldsmithing industry click here.
What can I earn as a silversmith?
As an apprentice or someone who is training you should be paid at least the National Minimum Wage for your age and this rate should increase as you get closer to completing your training. Apprentices undertaking traditional training may start out earning around £12,000 – £13,000 per year and be closer to £17,000 – £18,000 at the end of their four-year apprenticeship. Once you have completed your training your earnings will vary depending on your skill and employment status.
Salaries for an employed silversmith can start at around £22,000 - £28,000 per year in the first few years after training. This can rise to £28,000 - £35,000 for mid-career silversmiths and can reach £35,000 - £60,000 for the most experienced and skilled silversmiths working for a top company. 
If you are self-employed, being a silversmith can be well paid if you have regular clients or constant sources of work, but it can be difficult if you are commissioned ad hoc. As a silversmith you may work on a commission basis and would normally agree a fee per job. Rates for this will depend on your experience, the materials being used, the number of hours spent designing, making and project managing the piece, the complexity of the piece required by the client, plus a profit of between 10 - 100%. No matter how you work your reputation is extremely important as the goldsmithing industry often operates on word of mouth recommendations and trust. 
What industry membership bodies can I join?
Meet the makers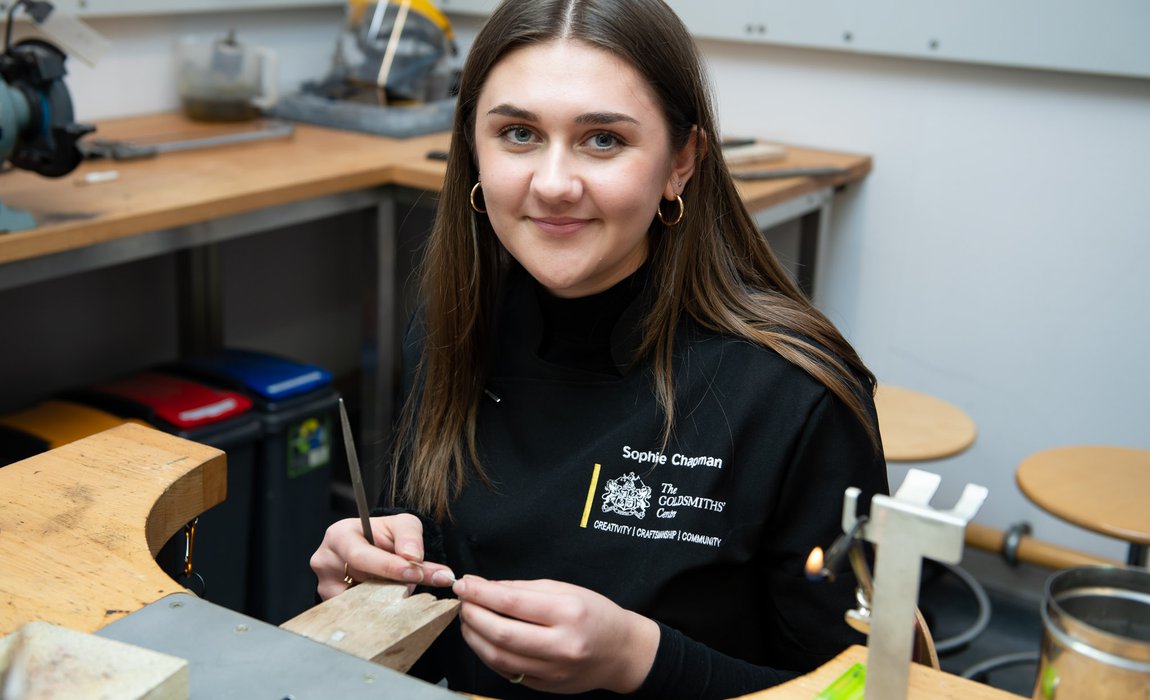 I chose silversmithing because it's so varied in the sort of work you can do, it covers all scales; you could be making something tiny in smallwork like a pill box, or working on a huge trophy.
Examples of silversmithing
The Goldsmiths' Company Collection includes over 8,000 pieces of antique, domestic & contemporary silver, jewellery and art medals which were made in Britain between 1350 and the present day. The Company continues to purchase, and commission pieces each year and new contemporary pieces must demonstrate innovative design combined with excellent craftsmanship. Pieces are acquired from both established craftspeople and rising stars. 
The Goldsmiths' Company also retains an image archive of Masterpieces created by apprentices in their final year on the Goldsmiths' Company Apprentice Scheme. These pieces take around 350 hours to make and demonstrate the skills learnt throughout an apprentice's training. A selection of these pieces, which demonstrate silversmithing, can be seen here:
Further information
There are many reputable sources of information relating to the jewellery, silversmithing and allied industries. Whether you are trying to find information on technical skills, processes, materials, makers or inspiration some resources relating to silversmithing can be found below:
The Goldsmiths' Company Library relates specifically to gold and silversmithing, jewellery, assaying and hallmarking, precious metals, and the City of London and its guilds. The Library includes 8,000+ books and 15,000+ images, magazines, periodicals and journals, technical guides, films, special research collections, design drawings produced during the early and mid-twentieth century by British or UK-based craftspeople and subject files on a wide range of industry related topics. The Library is also responsible for the Company's archives, which date back to the 14th century. 
Silversmithing related books include; 
Prof. Dr. Erhard Brepohl, The Theory and Practice of Goldsmithing, Maine, Brynmorgen, 2001
Rupert Finegold and William Seitz, Silversmithing, Wisconsin, Krause Publications, 1983
Brian Hill and Andrew Putland, Silversmithing.  A contemporary guide to making, Ramsbury, The Crowood Press, 2014
Frances Loyen, The Thames and Hudson manual of silversmithing, London, Thames and Hudson, 1980