Engraver
An engraver is a specialist who has perfected the skill of cutting images into or onto the surface of metal using hand or machine engraving techniques.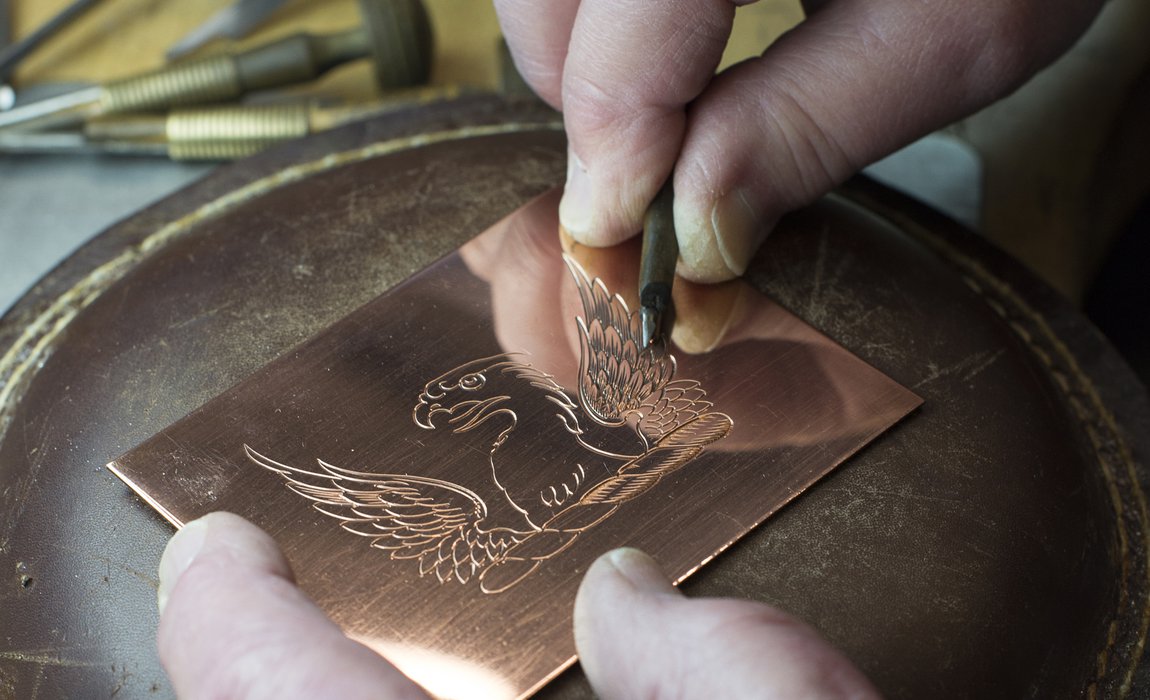 Engraving is the process of removing material from the surface of a piece of metal to create decoration. The resulting engraving can take any form but Heraldic imagery, lettering, pictures and texture or pattern are most common. Engraving can be further split into various sub-specialisms including hand engraving, machine engraving, gun engraving and seal engraving.
"Engraving is one of the oldest and most important techniques in printmaking. Albrecht Dürer engraved a series of copper plates which were then turned into prints, they secured him fame throughout Europe as a genius artist. As the son of a goldsmith, he would have been familiar with engraving from a young age."
What personal attributes are useful for an engraver?
To be an engraver you need to be: 
Creative and artistic – being able to draw is very important
Possess good manual dexterity and hand-eye coordination as you will be using gravers to remove metal and create ornamentation 
Patient and self-disciplined with the ability to work on the same project for prolonged periods of time 
Able to look at detail, sit, stand or bend for long durations 
Very meticulous 
Able to work both independently and collaboratively 
A good communicator - you might be asked to explain or devise layouts and sketches for customer approval 
Trustworthy - you might be working with someone else's objects 
Able to explain and talk about your work, especially if you are producing your own designs
Interested in new technologies and mechanisation processes and be willing to learn to use relevant machinery and software  
An exceptional engraver will have undergone rigorous practical training. You need to be creative with how you translate your client's designs or your own, onto a piece of work. You will also need to be able to create and maintain your own tools to achieve the desired effects. Engravers will benefit from a metalsmithing background as it will allow you to combine engraving with other techniques such as polishing, enamelling or setting.  
A day in the life of an engraver - Louise Sorrell
What will my working life be like as an engraver?
Engravers work in a workshop or studio, normally from a work bench. You can either be employed to work for a company or self-employed. If you work for a company you are part of a bigger team, will earn a wage and have standard hours, normally, Monday to Friday. 
Many engravers are self-employed, and the hours worked depends on the volume and type of commissions. If you are self-employed you may have a workshop at home or shared with other craftspeople and you may engage directly with customers to create bespoke pieces or to transfer their designs onto metal. Alternatively, you might decide to design and sell your own pieces. Designer-makers can either sell their pieces through a gallery or retail space or you might decide to sell them directly to customers at craft fairs for example. In this case you will need to develop good business, finance, marketing and interpersonal skills. 
Hand-engravers must understand form and be able to draw in various styles both forward and in reverse. You will need to be able to accurately transfer a design on to metal and turn this into an engraved article using traditional differently shaped engraving tools, known as gravers, to cut lines, create tone and texture, and to bring a design to life. Being able to cut accurately to a scribed line on flat and three-dimensional pieces is key.
Machine or CAD engraving can be faster and a more cost-effective way of engraving than by hand. It tends to be used when engraving is required on large volumes of pieces or for specific designs such as lettering, logos or repetitive patterns. Machine engraving is done using high speed cutters. The design is prepared as a CAD file and cut by a pantograph. Designs can also be scanned and engraved by computer-controlled C.N.C machines. Both precious metals and base metals can be machine engraved and any artwork or font can be engraved onto a piece as an outline or with infilled-shading.
Gun engraving uses a variety of hand and machine engraving techniques and applies them onto gun parts. Designs normally include scrollwork, borders, inlay and overlay, relief images of traditional wildlife and hunting scenes and lettering. It is important for gun engravers to have a working knowledge of gun parts and their function. Whilst engraving will normally be applied to disassembled, pre-hardened parts gun engravers must have good control of their tools in order to be able to engrave onto convex, concave, and flat surfaces. Air tools may be used to produce deep cuts on the pre-hardened, thick steel. Gun engravers may work for a gun factory or as a self-employed gun engraver. 
Seals were historically used by Royalty and religious leaders to mark the authenticity and ownership of an item. Today, seal engraving is normally done onto signet rings often to display family crests, initials and monograms. Seal engravers must often produce work in reverse to ensure an accurate impression of a design when pressed into wax. The ability to draw and work in reverse, carving away to a high level of fine detail is an integral skill for a seal engraver. Many seal engravers will use magnification and may produce their own tools depending on the job. Many seals are presented to customers alongside a wax impression of the piece.
Whichever area you specialise in, within your work you must be able to adhere to industry health and safety requirements; understand the safe storage, handling and disposal of harmful materials used in the workshop; know how to safely operate and maintain your machines and tools and learn how to adequately process your materials.
You will find it useful to maintain a working knowledge of letter forms, inscriptions and monograms, scrollwork and ornamental patterns and their layouts; interpretation of pictorial work represented as line, dot, or texture; a basic knowledge of Heraldic rules and terminology; identification of materials to be engraved and of processes that may have been applied to them; and a basic knowledge of etching and photo-etching.
As an engraver you will use skills and techniques including adhering to drawn, verbal or written Instructions and working to dimensions, making and maintaining tools; drawing and laying out; cutting; texturing; carving; piercing; inlay and overlay; erasure, polishing and finishing.
You can expect to work with steel, copper, silver, gold and platinum. And you will learn how to use tools including Personal Protective Equipment, measuring and marking-out tools, sandbags, a range of gravers, engravers clamps, GRS tools, Water of Ayr stone and a range of hand tools. You should receive training in all of these as required.
Training or qualifications: How can I become an engraver?
There are no specific academic qualifications required to become an engraver. Engravers might start with a short course to gain the basic principles and then decide they want to pursue it further. Many engravers will have a background in metalsmithing and then perfect their engraving skills through practical training and experience. It takes hours and sometimes years of practice and perseverance to become an accomplished engraver, you should also be committed to learning from those that are more skilled.  
There are several ways to start out in the jewellery, silversmithing and allied industries. To become trained as an engraver you may choose to go straight into a job, or relevant course at a college, university or training centre. There are very few skill-specific qualifications available, but many courses provide an introduction to a range of creative skills. To find out more about different options and your potential route into a creative career within the goldsmithing industry click here. 
What can I earn as an engraver?
As an apprentice or someone who is training you should be paid at least the National Minimum Wage for your age and this rate should increase as you get closer to completing your training. Apprentices undertaking traditional training may start out earning around £12,000 – £13,000 per year and be closer to £17,000 – £18,000 at the end of their four-year apprenticeship. Once you have completed your training your earnings will vary depending on your skill and employment status.
In general, machine engravers may earn slightly less than other types of engravers due to the use of machinery rather than hand skill. The increased speed that a machine engraving can produce makes this form of engraving more commercially viable and allows machine engraved products to sell for a lower price. Seal engraving will take longer than lettering due to the design complexity and depth of the cut. Letter engravers may charge by the letter and will take size and font into account when pricing up work.
Salaries for an employed engravers can start at around £22,000 - £25,000 per year in the first few years after training. This can rise to £35,000 - £40,000 for mid-career engravers and can reach up to £60,000 for the most experienced and skilled engravers working for a top engraving company. 
If you are self-employed, being an engraver can be well paid if you have regular clients or constant sources of work, but it can be difficult if you are commissioned ad hoc. As an engraver you may work on a commission basis and agree a fee per job, per hour or per day. Rates for this will depend on your experience, the materials being used, and the complexity of the piece required by the client. No matter how you work your reputation is extremely important as the goldsmithing industry often operates on word of mouth recommendations and trust. 
What industry membership bodies can I join?
The Goldsmiths' Centre offer a range of membership options for people at different stages of their career. Joining a membership body or keeping up to date with industry events allows you to create a network with like-minded individuals. They might also run workshops to acquire new skills. See for example: 
Meet the Maker
Florentine hand-engraving is quite a rare technique in this country, and I wanted to promote this ancient craft and combine it with contemporary design.
Examples of engraving
The Goldsmiths' Company Collection includes over 8,000 pieces of antique, domestic & contemporary silver, jewellery and art medals which were made in Britain between 1350 and the present day. The Goldsmiths' Company continues to purchase, and commission pieces each year and new contemporary pieces must demonstrate innovative design combined with excellent craftsmanship. Pieces are acquired from both established craftspeople and rising stars. 
The Goldsmiths' Company also retains an image archive of Masterpieces created by apprentices in their final year on the Goldsmiths' Company Apprenticeship Scheme. These pieces take around 350 hours to make and demonstrate the skills learnt throughout an apprentice's training. A selection of these pieces, which demonstrate engraving, can be seen here:
Further information
There are many reputable sources of information relating to the jewellery, silversmithing and allied industries. Whether you are trying to find information on technical skills, processes, materials, makers or inspiration some resources relating to engraving can be found below:
The Goldsmiths' Company Library relates specifically to gold and silversmithing, jewellery, assaying and hallmarking, precious metals, and the City of London and its guilds. The Library includes 8,000+ books and 15,000+ images, magazines, periodicals and journals, technical guides, films, special research collections, design drawings produced during the early and mid-twentieth century by British or UK-based craftspeople and subject files on a wide range of industry related topics. The Library is also responsible for the Company's archives, which date back to the 14th century. 
Engraving related books include:
A Brittain, S. Wolpert and P. Morton, Engraving on precious metals, London, N.A.G. Press Ltd., 1958
Tim McCreight, Complete metalsmith, Maine, Brynmorgen Press, 2004
Anastasia Young, The Workbench Guide to Jewelry Techniques, London, Thames and Hudson, 2010
Engraving related film content includes:
If you're passionate about a craft, then work your socks off and spend all your spare time thinking about it and doing it, practising.
Sam Marsden, Master to apprentices at SamJames Ltd