Enameller
An enameller decorates metal surfaces with colour by using powdered glass and fusing it with heat to the specially prepared metal surface.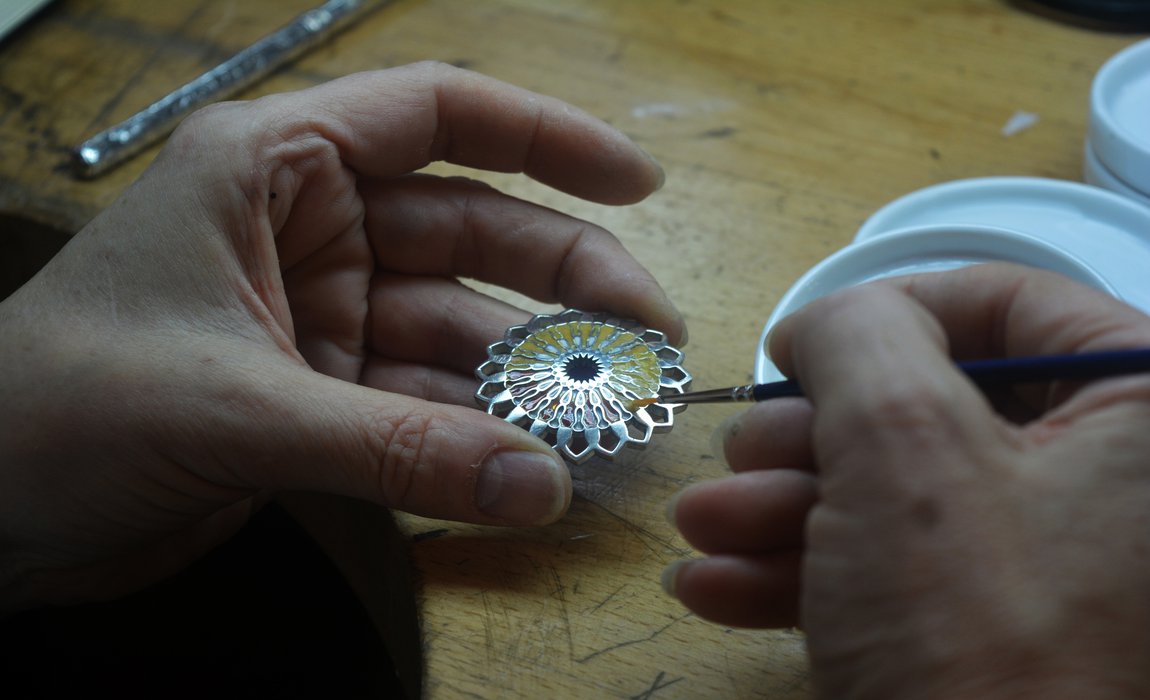 Enamel consists of powdered glass, it can be transparent, translucent or opaque, and may be clear or coloured by metallic oxides.  It is applied to the metal either wet or dry. The metal is then heated, usually in a kiln or with a handheld torch. The heat causes the enamel to melt and fuse to the metal. The heating time is short and layers of enamel in different colours or textures can be added to the piece and re-fired, sometimes up to 20 times.  There are several methods of enamelling including, champlevé, basse-taille, cloisonné, plique-à-jour, enameling en rond bosse (3D), Limoges or painting enamel and sunken enamel.
"Opaque red, yellow and orange are the most difficult colours to enamel because they contain cadmium pigment which is highly sensitive to temperature and firing time. For this reason, these colours are fired last when multiple colours are used."
What personal attributes are useful for an enameller?
To be an enameller you need to be: 
Interested in craft and design 
Interested in working with metals and powdered glass
Good at working with your hands
Creative and artistic, sensitive to colour and able to visualise what colours and designs will look like 
Comfortable working with high temperatures 
Able to work independently and collaboratively 
Meticulous and able to maintain an extremely clean work place
Trustworthy as you might be enamelling someone else's piece 
Able to explain and talk about your work, especially if you are producing your own designs 
Able to prepare the surface of a piece to prepare it for enamelling. This may include being able to engrave or carve metal
Enamellers will benefit from having a goldsmithing background which will allow you to produce your own work which you can then enamel. Additionally, some enamelling techniques require engraving, chasing or stamping to achieve more depth and detail in the ornamentation. An enameller is both a chemist and an artist, and you will need to be creative to be able to translate your, or other peoples, designs onto metal. 
What will my working life be like as an enameller?
Enamellers will need access to a kiln and/or a torch. You might work in a workshop or studio from a work bench with access to these tools.  You can either be self-employed or employed to work for a company. If you work for a company you are part of a bigger team, will earn a wage and have standard working hours, normally from Monday to Friday. 
If you are self-employed you may have a workshop at home or shared with other craftspeople and you might share the kiln with ceramists. You are likely to need to engage with customers to create bespoke pieces or you might be approached by a company or an individual to translate their designs into enamel. Alternatively, you might decide to design and sell your own work. Designer-makers can either sell their pieces through a gallery or retail space or they might decide to sell them directly to customers at craft fairs for example. In this case you will need to develop good business, finance, marketing and interpersonal skills. 
Within your work you will need to adhere to industry health and safety requirements including COSHH; know how to safely store, handle and dispose of enamels, chemicals and acids; know how to safely operate and maintain your enamelling and engraving tools and equipment including the kiln; learn how to process a range of metals, enamels and associated materials; and develop an ongoing working knowledge of using a colour chart, understanding colour and colour balance. 
As an Enameller you will use skills and manufacturing techniques including transferring designs onto your metal; grinding, washing and blending colours; recessing, carving and texturing metals as well as having a working knowledge of a range of surface decoration techniques; know how to enamel on flat and three-dimensional work; fire, wear-off, polish and finish work; know how to deal with common issues and how to restore existing work; have a solid understanding of how different enamels react to each other and the metals they are applied to; and have knowledge of various goldsmithing construction and production techniques including soldering, casting and laser cutting.
You can expect to work with all carats of gold, different types of silver, solders (especially enamelling solder), mild steel and some base metals in various forms such as wire, sheet and finished items. And you will learn how to use tools including artists equipment; a kiln; grinding tools; tools for applying enamel; Carborundum stones; Personal Protective Equipment; engraving tools; polishing tools; a torch and a range of hand tools. You will receive training in all of these, as required. 
A day in the life of an enameller - Daniel Munn
Training or qualifications: How can I become an enameller?
There are no specific academic qualifications required to become an enameller. Many enamellers are self-taught. They might start with a short course to gain the basic principles and then practice the techniques until they achieve the desired effects. However, exceptional enamellers will have a background in goldsmithing. Enamellers also learn from each other by visiting more experienced craftspeople and examining their work. They will also learn and develop new skills from books or studying historic examples in museums or galleries. 
There are several ways to start out in the jewellery, silversmithing and allied industries. To become trained as an enameller you may choose to go straight into a job, apprenticeship or relevant course at a college, university or training centre. There are very few skill-specific qualifications available, but many courses provide an introduction to a range of creative skills. To find out more about different options and your potential route into a creative career within the goldsmithing industry click here.
What can I earn as an enameller?
As an apprentice or someone who is training you should be paid at least the National Minimum Wage for your age and this rate should increase as you get closer to completing your training. Apprentices undertaking traditional training may start out earning around £12,000 – £13,000 per year and be closer to £17,000 – £18,000 at the end of their four-year apprenticeship. Once you have completed your training your earnings will vary depending on your skill and employment status.
Enamelling is a niche skill and there are a limited number of practising enamellers within the UK. If you are considering becoming an enameller you may wish to train in a complementary skill such as engraving. This may help ensure you are more widely employable.   
Salaries for an employed enameller can start at around £23,000 - £25,000 per year in the first few years after training. This can rise to £35,000 - £40,000 for mid-career enamellers and can reach over £45,000 for the most experienced and skilled enamellers.
If you are self-employed, being an enameller can be well paid if you have regular clients or constant sources of work, but it can be difficult if you are commissioned ad hoc. Self-employed enamellers will normally charge by the job and must be able to quote in this way. Rates for this will depend on your experience, the materials being used, and the complexity of the piece required by the client. No matter how you work your reputation is extremely important as the goldsmithing industry often operates on word of mouth recommendations and trust. 
What industry membership bodies can I join?
Meet the makers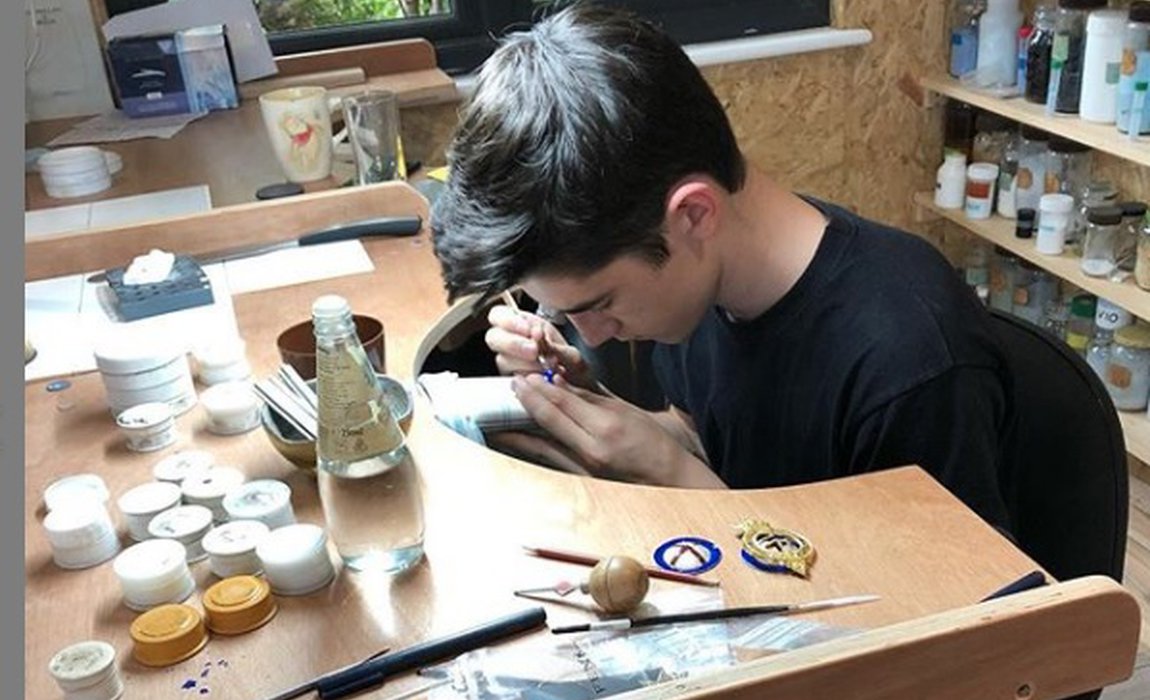 I just found that enamelling really suited me. I've always been quite an arty person, and I like having the opportunity to work with lots of colour. I think enamelling in particular gives you more creative and artistic freedom.
Examples of enamelling
The Goldsmiths' Company Collection includes over 8,000 pieces of antique, domestic & contemporary silver, jewellery and art medals which were made in Britain between 1350 and the present day. The Company continues to purchase, and commission pieces each year and new contemporary pieces must demonstrate innovative design combined with excellent craftsmanship. Pieces are acquired from both established craftspeople and rising stars. 
Further information
There are many reputable sources of information relating to the jewellery, silversmithing and allied industries. Whether you are trying to find information on technical skills, processes, materials, makers or inspiration some resources relating to enamelling can be found below:
The Goldsmiths' Company Library relates specifically to gold and silversmithing, jewellery, assaying and hallmarking, precious metals, and the City of London and its guilds. The Library includes 8,000+ books and 15,000+ images, magazines, periodicals and journals, technical guides, films, special research collections, design drawings produced during the early and mid-twentieth century by British or UK-based craftspeople and subject files on a wide range of industry related topics. The Library is also responsible for the Company's archives, which date back to the 14th century. 
Enamelling related books include: 
Ruth Ball, Enamelling, London, Bloomsbury Visual Arts, 2016
Phil Barnes, Engraving and Enamelling: The Art of Champlevé, Ramsbury, Crowood Press, 2019
Gillie Hoyte Byrom, The practice of painting in enamel, Ashburton, GHB, 2018
Herbert Maryon, Metalwork and enamelling, New York, Dover Publications Inc., 1971
Jinks McGrath, First steps in enamelling, London, Quintet Publishing Ltd, 1994