Traditional Pearl Stringing with Anja Moehler
Date

01 Feb 2024 · 9:30AM - 4:30PM

Price

£159 (8 places)

Venue

Design Space, the Goldsmiths' Centre

Programme type

Technical Skills Training
Sold out
Pearl necklaces are a timeless staple of any jewellery box. Known as the "Queen of Gems", pearls are associated with elegance and sophistication. With trendy design updates, pearl jewellery has had a major comeback in recent years. Whether you're a beginner or have prior experience, join designer and maker Anja Moehler for this one-day short course to learn the fine art of pearl stringing.
Anja is an experienced pearl stringer who will show you how to string pearls onto silk from start to finish. Learn how to carefully place a knot between each pearl to allow for beautiful movement in your jewellery using a variety of stringing techniques. Unleash your creativity to create breathtaking new designs or understand how you can add restringing, redesign or remodelling of pearl jewellery to your service.
From top tips on how to troubleshoot to repair services, and useful gemological facts to how to daily care for pearls, Anja will take the time to give you support and advice through demonstration. If you have precision and patience, pearl stringing is quick to learn, doesn't require vast investment in equipment and offers a broader spectrum to your business.
Our small class size offers you the chance to get group as well as individual guidance and 1:1 time with your tutor, allowing you to receive tailored advice to deepen your knowledge and understanding of the pearl stringing process.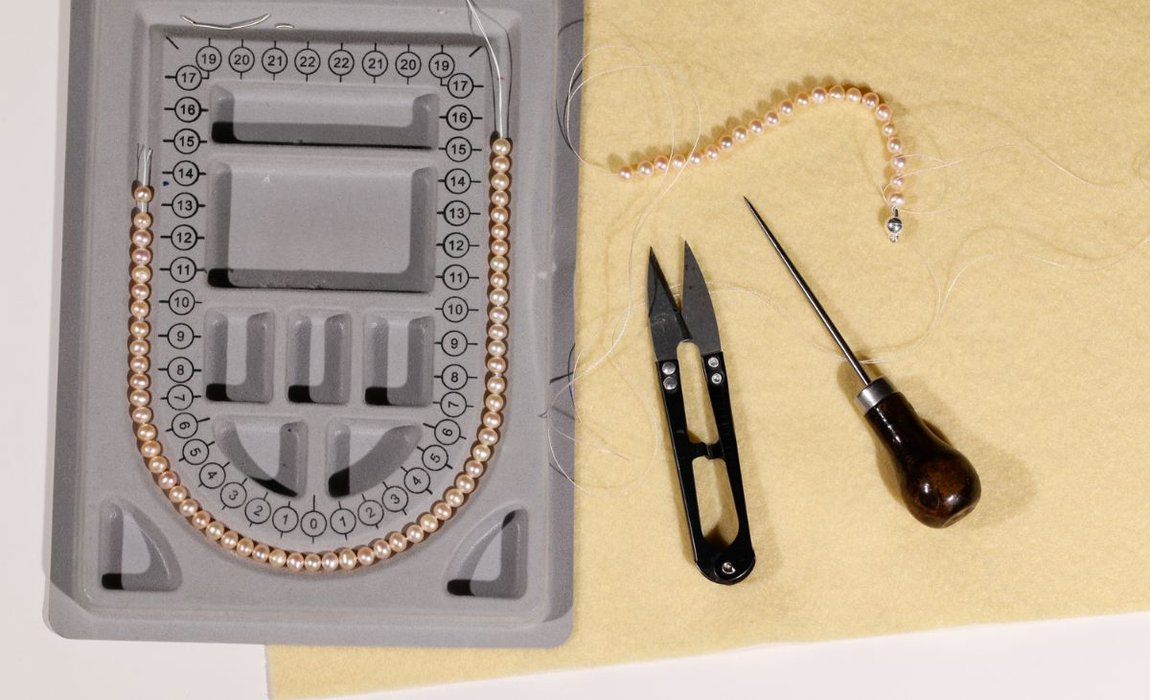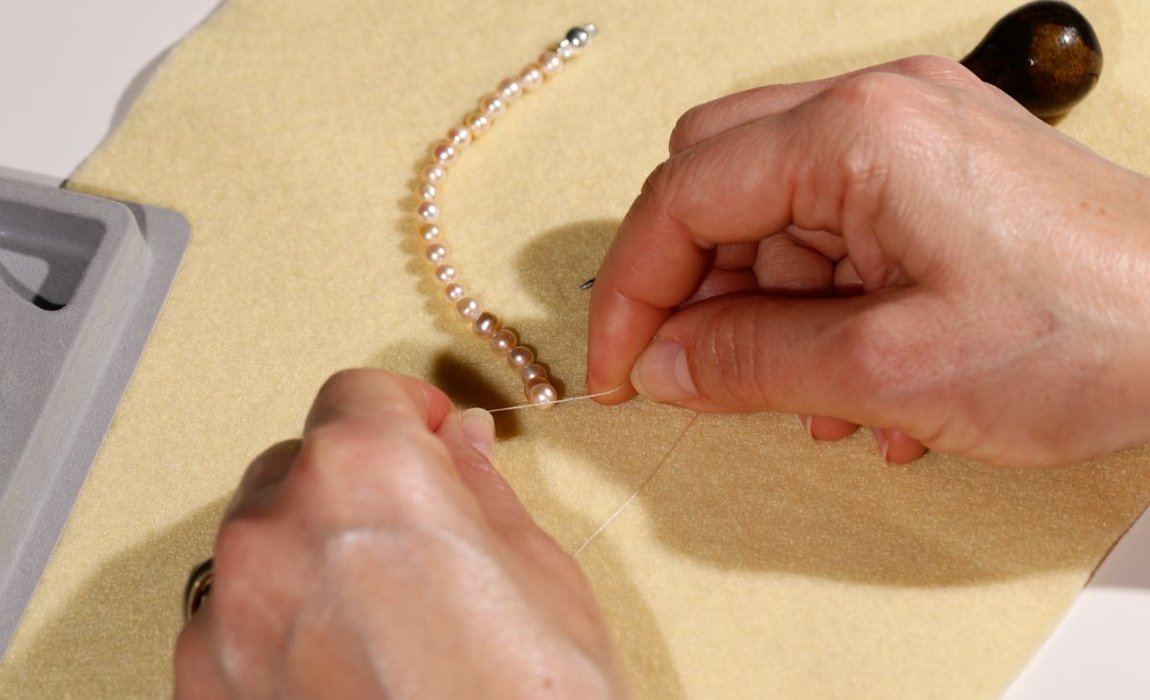 FAQ
Delivered in person at the Goldsmiths' Centre, this course will help you to:
broaden your skill set and incorporate pearl-stringing techniques into your designs.
understand the properties of pearls including its limitations in jewellery making, handling and care and in pearl-related repair services.
grow constant business opportunities by working with the timeless and increasingly popular material: pearls.
enhance your service offer by enabling you to incorporate beads, pearls and other gemstones into your designs and develop repair services or respond to bespoke client enquiries.
free yourself from other service providers, allowing you to quote and turn around processes faster for your clients.
build trust with your customers and share knowledge regarding pearl jewellery and its care to solidify relationships.
increase your independence throughout your design, making and production processes, allowing for more creative freedom i.e., wedding / bridal jewellery collections.
an introduction to pearls as a gemstone, gemmological facts as well as their use in jewellery, showcasing some iconic and historical pieces.
the materials, tools and techniques used for pearl stringing. You will be shown jewellery pieces that have been strung using different techniques.
troubleshooting, tips and hints for pearl and gemstone bead stringing care for pearl jewellery, including a Q&A session.
Through demonstration and instruction, you will be taught the practical skills to string pearls and gemstone beads using three different techniques:
basic stringing technique from start to finish, including knots in between pearls. You will complete a partially knotted pearl bracelet.
technique to string pearl jewellery pieces without a clasp, i.e. for endless pearl necklaces.
advanced stringing technique to string and secure fully knotted pearl jewellery pieces. This is ideal for larger pearls, heavier gemstone beads, or shorter pearl sections, such as in between chain links or jump rings.
All materials and equipment will be provided. If you prefer to bring your own pearls, the tutor will examine these and will confirm whether these are suitable for this course. Please note that we cannot guarantee that your pearls can be used.
Make sure you come to the course with freshly washed hands as pearl stringing is a very delicate craft and we are handling white threads and pearls, which are susceptible to the minute particles, like hand creams, hand gels, dust etc.
Optional:
Spectacles or head visor (if required) to work on small details.
Notebook and pen.
What will I be provided with?
All stringing tools and equipment needed to string pearls.
A selection of approximate 6mm and 8mm cultured freshwater pearls A (C) grade 4.
Sterling silver findings.
All stringing tools and equipment needed to string pearls. A selection of approximate 6mm and 8mm cultured freshwater pearls A (C) grade 4. Sterling silver findings.
This course is designed for beginners and intermediate learners:  
Beginner: No practical experience or understanding of the listed skills required.
Intermediate: Some practical experience and basic understanding of the listed skill required.
 
We believe that talent should not be held back. Here at the Goldsmiths' Centre, we are open, accessible and inclusive to all. Our Access Grants help anyone to build thriving creative careers, supporting jewellers, silversmiths and allied industry practitioners to access our training courses for free.
If you need help to cover fees for our business and technical skills short courses, please apply for one of our Access Grants. To find out more and read our application criteria, click here
The Access Grants are delivered by the Goldsmiths' Centre and funded by the Goldsmiths' Company Charity.
Who is the tutor?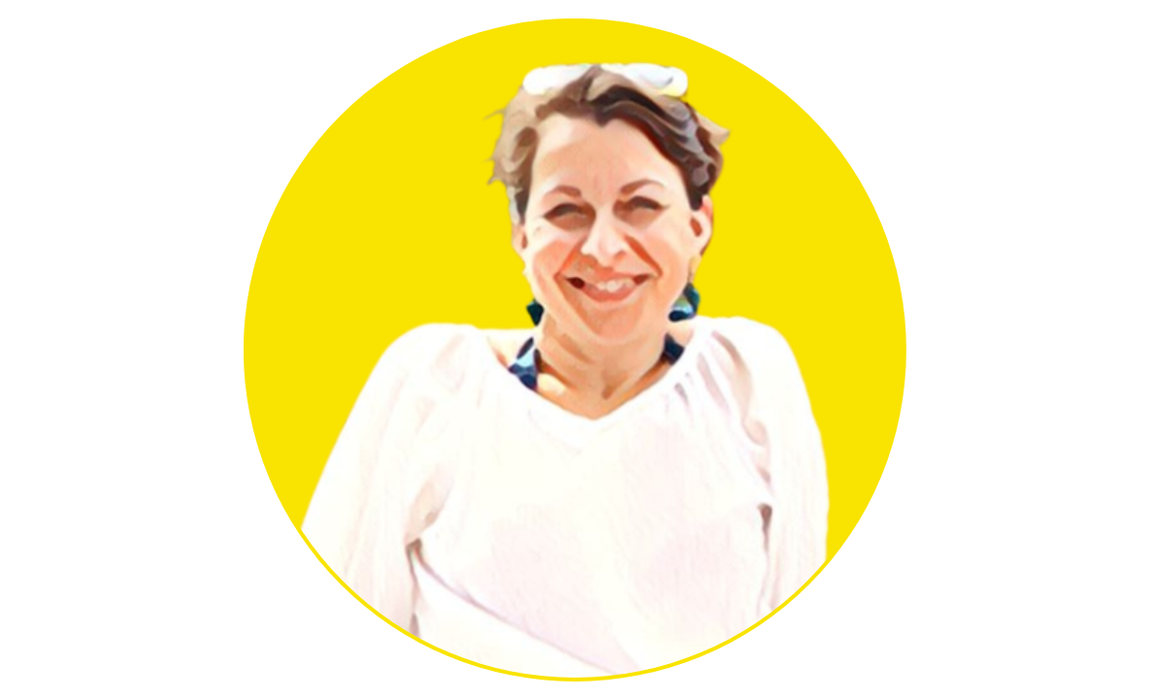 Anja Moehler is an experienced pearl stringer, jewellery maker/designer, and gemmologist. Originally from Berlin she started in the UK jewellery trade 15 years ago. For the past 6 years she has been the sole pearl stringer for Tiffany & Co., showcasing the craft and training other Pearl stringers. Anja has conducted stringing and beading workshops at prestigous venues such as the V&A Museum and The Forge, in London, and is very passionate about sharing her skills with other designers and jewellers. By empowering them to expand their skill set and incorporate pearls into their designs, she aims to bring a whole new level of versatility and creativity to their jewellery business.