It Starts Here: Designing for a client
Jewellery designers are not artists painting pictures to display on walls. They create unique 3D representations for clients or manufacturers to understand what a piece of jewellery, silverware or object d'art will look like once made. The beauty of a successful design is arriving at a statement piece that the client really wants. When there are tears of happiness, that is probably a good sign that a designer has achieved their brief.
When starting out, designing in front of, or for a client can seem intimidating. So, how do you get started? How do you make sure you understand your client and their needs? And how do you turn your design into a finished piece? Barry Moss, a freelance Jewellery Designer, tutor and recent Master to the Goldsmiths' Company's first ever fine jewellery design apprentice, shares his approach and top tips. 
#1 Understand your client!
Understanding your client, whether it's an individual or a major jewellery house, is the first essential step in designing any piece of jewellery or silverware. As a designer, you must carefully interpret the instruction given to you by your client whilst supporting them through the process of commissioning a piece of jewellery or silverware. As a designer, your role can be compared to that of a psychologist, as you must look behind your client's façade to figure out what they really want and not what they think they want. 
In order to be able to do this you should aim to build trust and a rapport between yourself and your client. Open and honest communication will enable you to discuss the project and will help cut down the risk of miscommunication which can be costly and reputationally bad. 
Start off by asking yourself: What is my client about? What do they do? What do they want? Who is the recipient of the design? What design will suit their style or physique? 
#2 Try to interpret your client's vision
It is your responsibility to come up with something that your client thinks they want, but you know that they are seeking! 
Let us assume you've been asked to design an engagement ring. Your client will have an idea about what they want, what it should look like and, most importantly, how much they want to spend. You first want to establish what the recipient would like; What is their background, their likes, dislikes? What is their fashion sense and their favourite colours? Do they like gemstones and which ones? Do you need to incorporate a past design trend – art deco, art nouveau – or do they like up to the minute, modern design?  There is a lot that you can find out about someone if you ask the right questions.
Once armed with this information you can start to interpret your client's words into potential ideas through initial sketches and client feedback. Having a good rapport will allow your client to give honest feedback about your ideas. Get this right and it makes your job easier; get it wrong, and you can spend hours trying to work on something, which doesn't fit the bill. You don't want to end up designing something that is petite and dainty, if it is for someone who likes bold, large, impressive jewellery.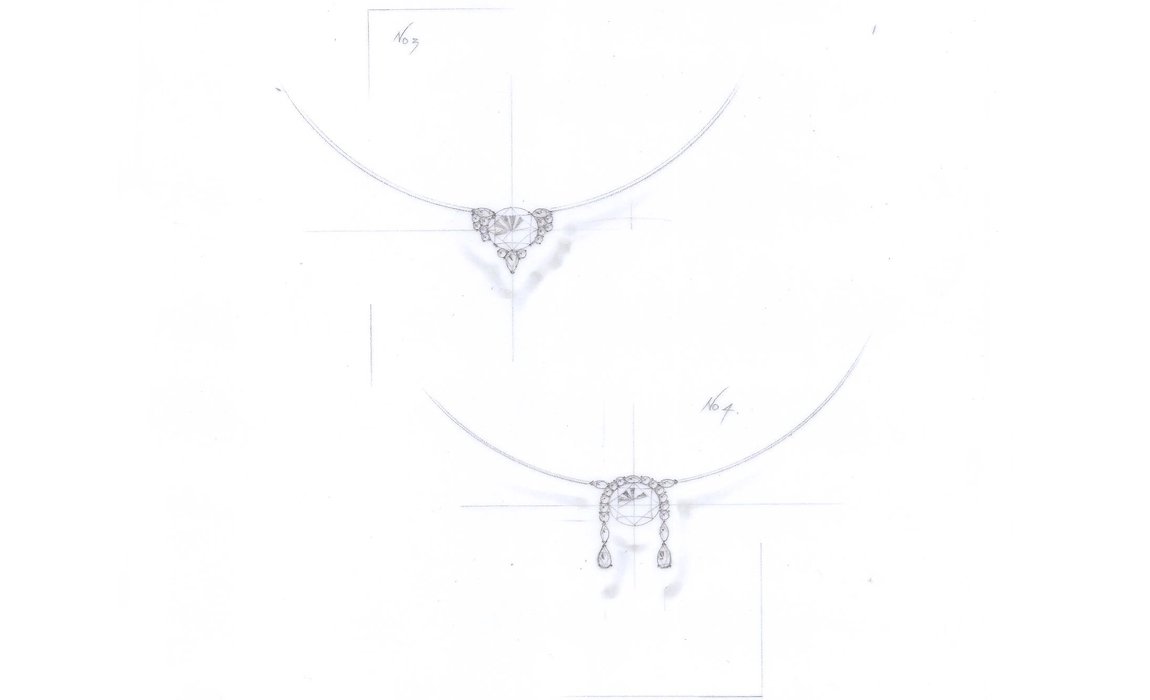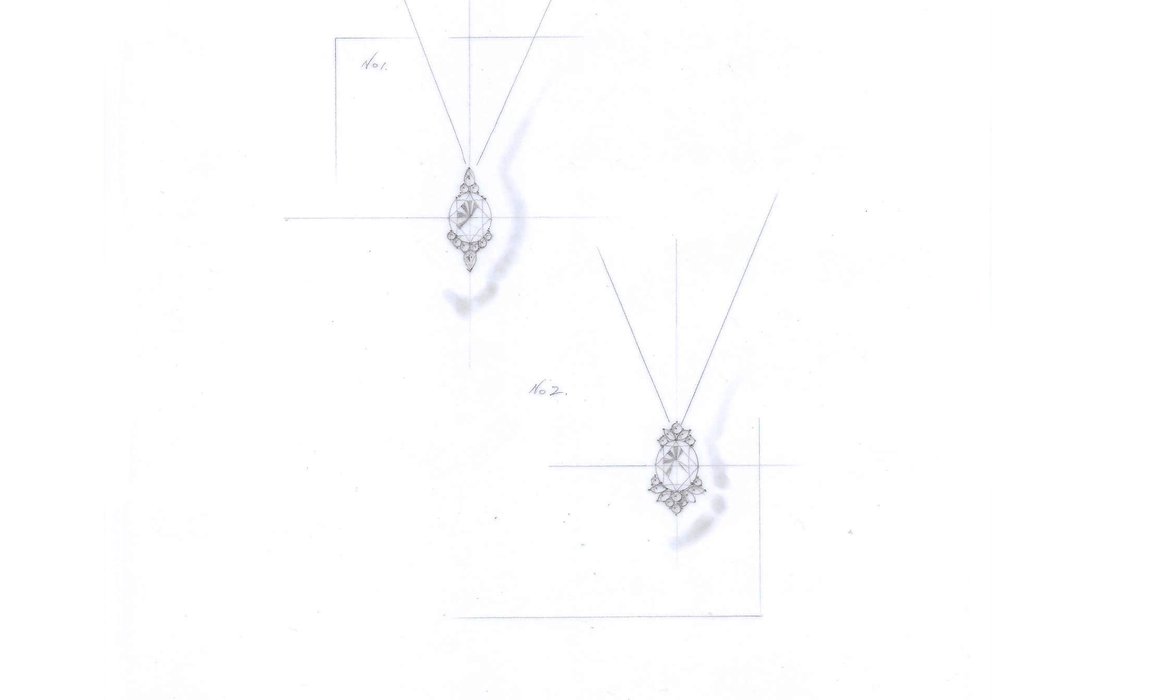 #3 Find your design inspiration
Your inspiration should always be sourced from the client first. If your client needs you to use a specific stone or a type of material, then it's best to research it.  For information on jewellery, silversmithing and allied trade materials and processes a specialist library like the Goldsmiths' Company Library is a good place to start your research. Once you have gathered research materials and have an understanding of the materials and processes involved you are ready to start designing.   
As a designer you need to build your own design vocabulary by constantly recording and gathering ideas. Try carrying a sketchbook wherever you go, and take photographs of anything you find interesting. Learn to look at the world around you, see what you like and take ideas from the things you observe. For example, when looking at architecture, don't look at the floor, but look at the tops and sides of buildings; make a note of the spaces left behind such as a shadows - designers look creatively and extract shapes which they can juxtapose into creative jewellery. Little ideas can be transformed into lovely designs – that shadow you saw could be scaled up, mirrored and cut into a stone or transformed into the form of a necklace.
You should now have an idea of colour, shapes, style, potential settings, gemstones and practical elements for manufacture. Sketches that the client has liked are the start point into which you should feed this information. You then combine the elements and start to develop and expand the designs. This should help you to develop rough sketches which you can begin to condense, rearrange and play with the design structure of. Pull these into a small number of exciting, unique design proposals that you can present.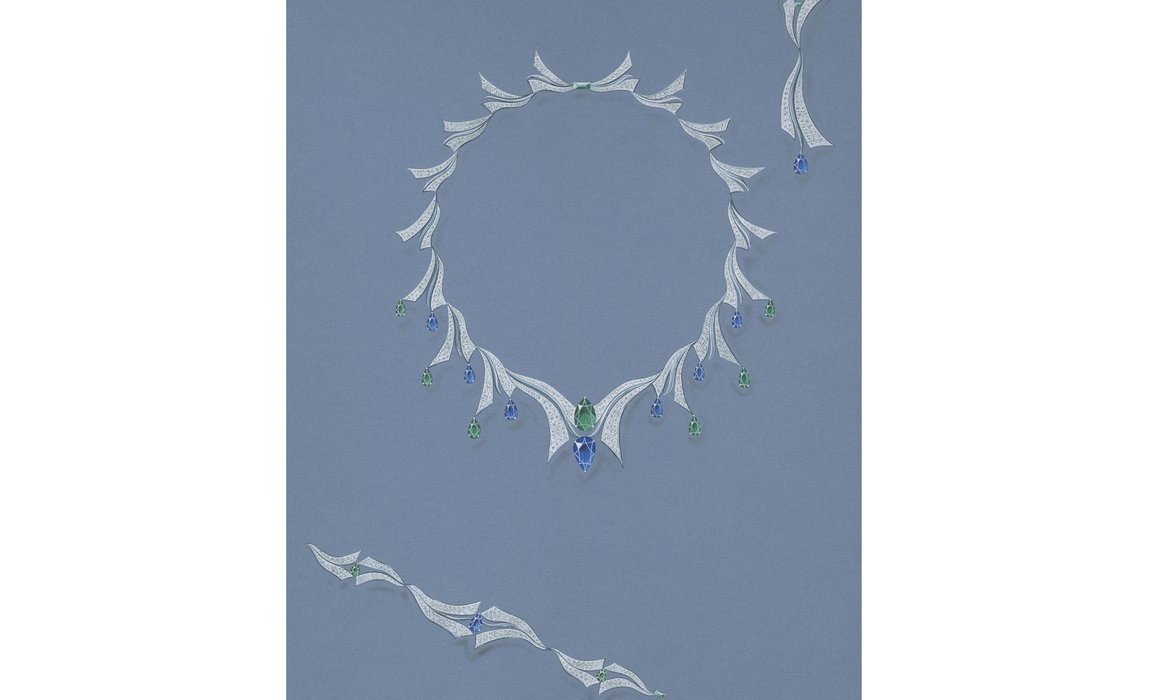 #4 Give your client options, but not too many
So, now you have produced some designs for your client to consider. However, it is best to limit the amount of designs you present. If you give too many, it can be difficult for your client to make a choice and you risk not getting the job done. For any client, whether they know exactly what they want or they are looking to be entirely led by you, it is always useful to put forward three suggestions only.  
The first design should be exactly what the client said they want, but during this part of the design process they may realise it is not. The second design is an alternative suggestion that may be less expensive or less ornate. In providing something which allows the client to compare their options, budget and wishes this can help empower them in the decision making process. The third is the ultimate design that you know they should have, and hope they will choose. This should show how you can fully develop the design. 
When it comes to presentation, you can get away with showing necklaces in a flat presentation as these will be worn against the body. But if you sketch a ring flat, your client may not be able to see the size, scale or visualise how it will sit on their finger. When sketching and presenting your ideas plan, side and end elevations are all useful. A side view will show your client how tall the piece will be and an end view conveys how wide it is going to be. A perspective view is initially the preferred option as this image should be enough to convey the illusion of a three-dimensional piece without you having to use words or further descriptions. If you are struggling to visuailse the piece in different perspectives try making a model to help as this will give you a 3-D view of the piece from which you can draw your design.
Conclusion:
A good designer needs to draw on their research, creative and making skills in order to successfully turn a client's initial idea into a finished piece.

With experience you will become more confident at sketching in front of your client, learn how to translate your research into potential designs and create designs in your own style so keep practising!
Interested in learning more? Check out these fantastic articles, videos and courses: