The Goldsmiths' Centre Grants – Crafting our Future Together
The Goldsmiths' Centre's mission is to work with individuals and organisations to protect and advance the skills and future of goldsmithing in the UK.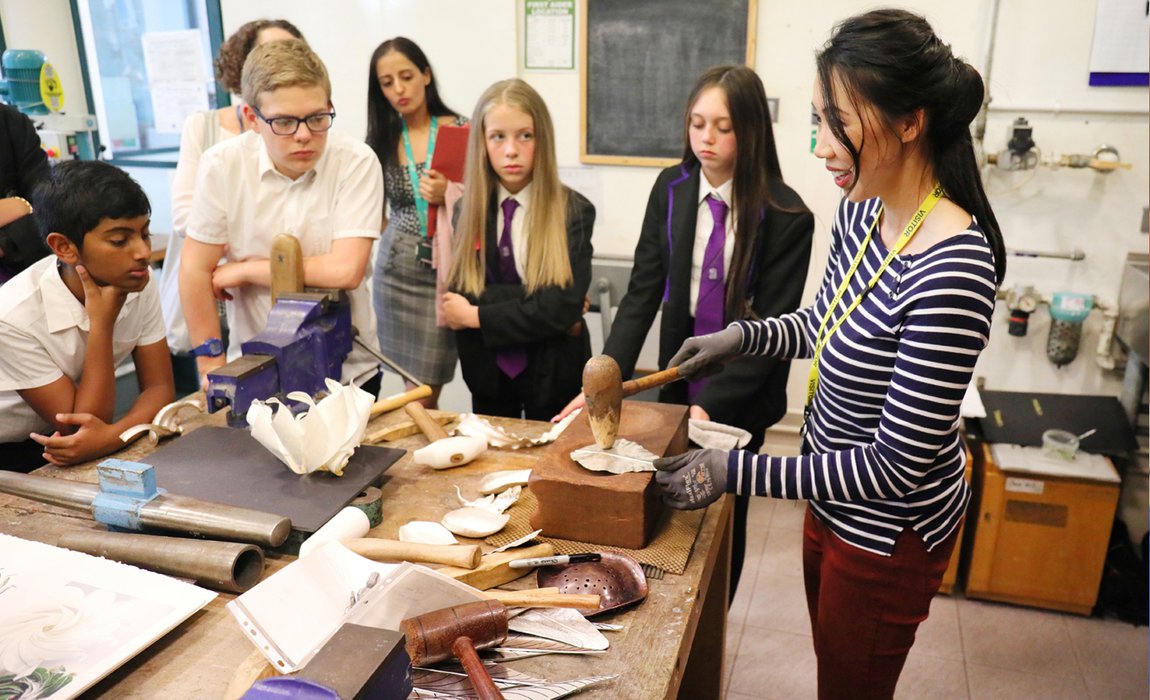 We look to partner and fund others who share our passion for our industry and our commitment to equity, diversity and inclusion, to support our charitable mission to "advance, maintain, and develop art, craft, design and artisan skills including (but not exclusively) those related to goldsmithing".
What kind of projects do we support?
We seek to support our UK industry, and those aspiring to enter it, and look to achieve this by empowering others to realise forward-thinking solutions and create ripples of change in the industry. By working together and sharing values, we hope to empower you to use your grant successfully. 
We invite you to submit proposals that help you or others to:
Empower – celebrate and support equity, diversity and inclusion in our communities and encourage new talent in our craft from underrepresented communities.
Re-energise – help individuals to develop successful businesses tackling topics like ecommerce, sustainability and Brexit.
Innovate – establish new ways of thinking about our sector, respecting the past and using it as a foundation for the future.
Grow – share your knowledge with other organisations and individuals to strengthen communal expertise and craft excellence.
To read our equity, diversity and inclusion statement to understand our charity's commitment, visit www.goldsmiths-centre.org/about-us/equity-diversity-inclusion
What is our approach to funding?
Our aim in providing these funds is to stimulate and encourage organisations to develop projects together that share our charitable purpose. We therefore seek applications that promote a collaborative approach that includes the work of the Goldsmiths' Centre, either directly or indirectly, through access to its resources and expertise. 
This could be by engaging with our community through our public programme, by utilising our workshops and exhibition spaces, receiving guidance and advice or by collaborating with our experts to address key industry issues. 
A good example of collaboration to widen access routes for young people to enter the industry is demonstrated through our partnership with The Creative Dimension Trust (TCDT). Their workshops in hand skills, including jewellery making, provide the opportunity for young people from diverse backgrounds, aged 14 to 19, to come together to learn under the guidance of an expert maker.
 
"Over the past five years of our partnership with the Goldsmiths' Centre, our workshops have consistently resulted in students joining its Foundation Programme. This is directly due to the inspirational teaching they receive at the Goldsmiths' Centre, which is delivered by experts in their field who are recommended by the Centre team. The Goldsmiths' Centre, which is one of TCDT major funders, helps enable TCDT to deliver these workshops for free to young people, 70% of whom are from underrepresented groups as a result of our connections with local organisations."
This collaborative approach is based upon the Funder Plus model. To read more about the opportunities that this approach creates, IVAR has an excellent resource here: www.ivar.org.uk/our-research/funding-plus
What is the application process?
Step 1: Expression of Interest Form
Submit an Expression of Interest Form for either a Small Grant (up to £10,000) or Large Grant (£10,000 - £40,000)
Small Grants - Expression of Interest Form - The Goldsmiths' Centre Grants

(60.3 KB)
Large Grants - Expression of Interest Form - The Goldsmiths' Centre Grants

(60.7 KB)
This form will enable the Goldsmiths' Centre to assess partnership potential, prior to a formal application. We acknowledge all Expressions of Interest on receipt, and will respond within 4 weeks to discuss your proposal further.
To discuss your proposal in advance of submission, please contact Julia Skilton, Education and Partnerships Officer at julia.skilton@goldsmiths-centre.org or call 020 7566 7650 for support. 
Step 2: Submitting an Application
If your proposal meets the Goldsmiths' Centre's objectives, applications will be invited that fulfil the following funding guidelines:
The Goldsmiths' Centre - Funding Policy Guidelines 2021

(65.4 KB)
This process requires the submission of the Centre's application form (Word document), together with supporting information required for due diligence. 
Step 3: Decision Timeline
Applications are accepted on a rolling basis and are reviewed on a quarterly basis (February, May, July and October). Applications therefore have a 3 to 6 months approval process, depending on the complexity of the project. 
Funding awards will be approved by the Goldsmiths' Centre's Trustees, and Trade Advisory Sub-Committee.