Continuing Professional Development (CPD) for Industry
Our specialist courses are designed to upskill professionals working in the jewellery and allied industries. Whether you are self-employed or a member of a production team, you will be provided with high-quality training giving you the confidence and necessary skills to progress in your career, upskill your team and grow your business.
Why choose the Goldsmiths' Centre?
Learn from carefully selected master craftspeople with decades of experience actively working in the trade.
Acquire specific skills and knowledge in a structured, practical and relevant way.
Receive one-to-one and dedicated instruction as a part of a small class size of up to 8 people.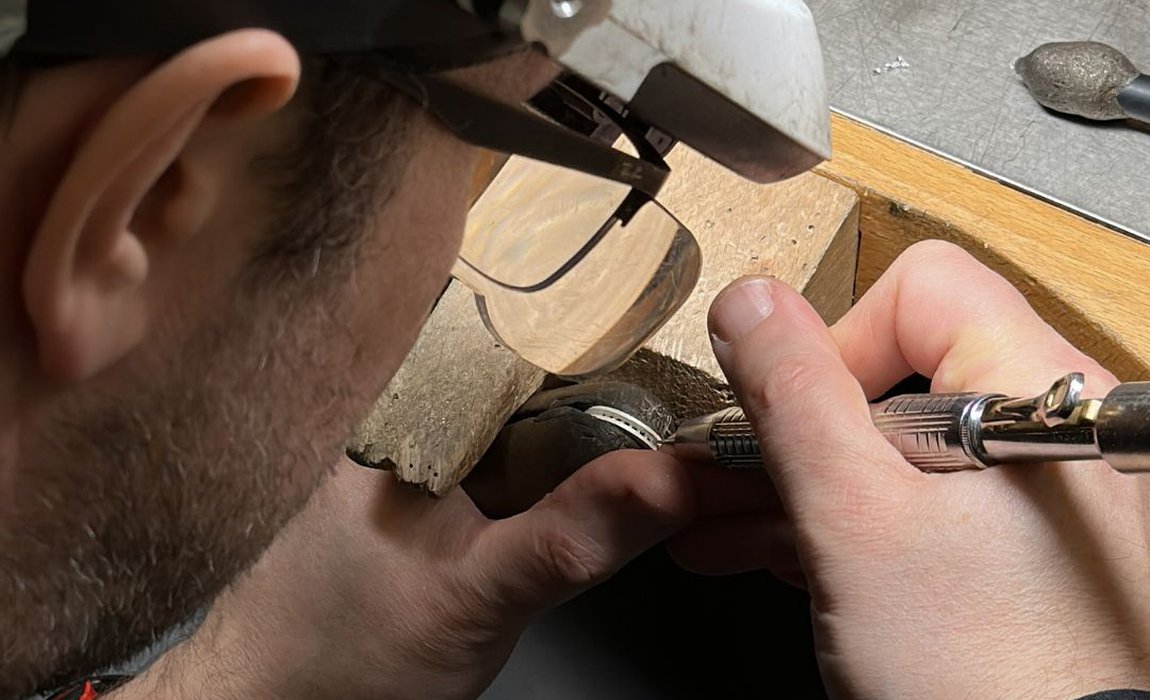 I found the course invaluable! To be taught and to learn to such a level in a professional yet friendly environment such as the Goldsmiths' Centre is an incredible opportunity.
Pavé Setting training participant
What training do you offer?
Bespoke Courses
If you manage a bigger business, you can benefit from a bespoke course delivered solely for your own employees, either taught in our Goldsmiths' Centre workshops or at your premises. Areas covered include fine diamond mounting, traditional stone setting techniques, microscope setting and engraving, CAD modelling using Rhino 3D, 3D printing, and polishing.
We can run these courses in your own workshop, provided that you have the necessary equipment required for the course. The dates and times are bespoke and subject to tutor availability.
Technical Courses
We run regular 2-to-3-day short courses at the Goldsmiths' Centre (London, EC1M 5AD) on fixed dates and times. These are best suited for individual members of your team as they can join other jewellery professionals on one of our courses and form new connections and contacts.
Examples of our current technical courses include:
Claw and Rubover Setting
Channel Setting
Pavé Setting
Setting with Air Tools
Introduction to Rhino and 3D printing
Our technical courses are taught by award-winning master craftspeople including Niall Paisley, Harry Forster-Stringer and Jasmin Karger.
Why invest in upskilling?
Advance in your career by acquiring and improving your technical skills.
Receive industry-recognised training from the Goldsmiths' Centre, building your confidence and your professional network.
Increase your work efficiency and accuracy.
Ensure high-level jewellery-making and production standards in your business.
Improve staff retention and loyalty to your business by investing in your team's continued professional development. The cost of replacing an individual employee can range from one-half to two times the employee's annual salary.
Improve efficiency and accuracy within your team to ensure your business does not fall behind competitors.
Contact our team
For more information about booking bespoke courses, fees and enrolment for your employees or your own self-development, please fill in the form below. Please outline what kind of training you are seeking for your business, and if known, when and where you would like the training to take place. Once you have selected the training course you would like your team to attend, you will be presented with dates and prices and your booking will be confirmed when payment has been received. One of our team will be in touch with you shortly.