Gold Membership – Co-working space near Hatton Garden
Looking for a co-working space in London? Look no further than the Goldsmiths' Centre. Register your interest to become a Gold Member and create your best work, working for yourself, not by yourself.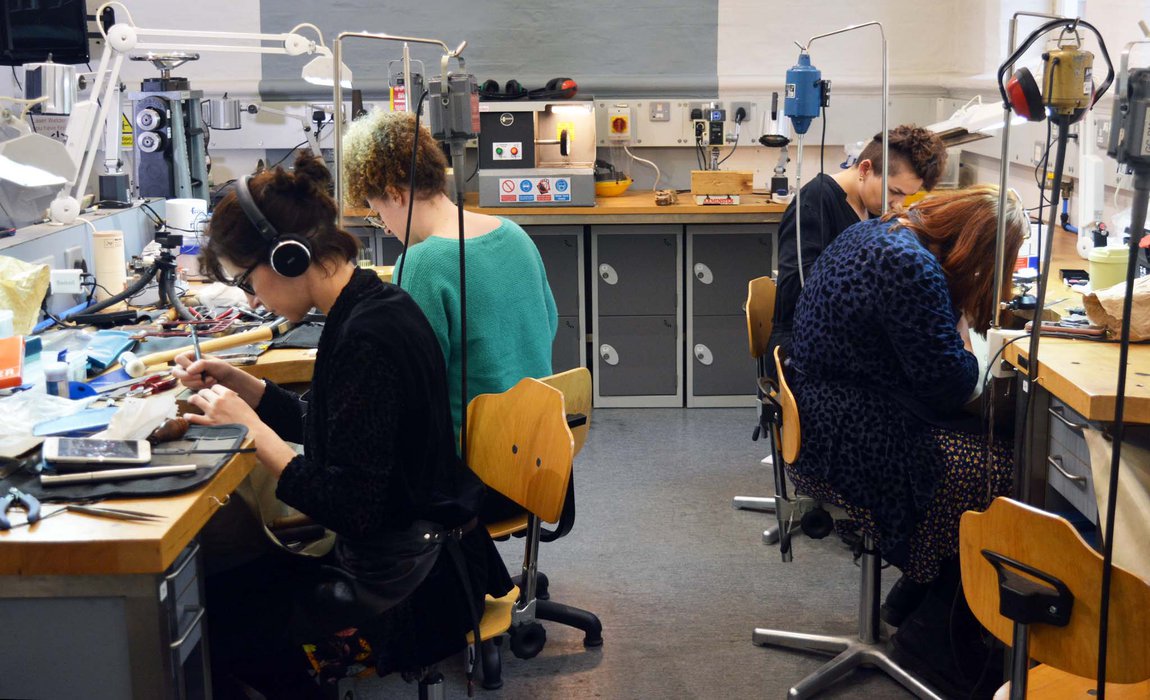 £104.50 plus VAT per month*. Minimum 12 months membership.
Fee: £104.50 plus VAT per month or £1,099+VAT for the year.  
Contract length: Minimum 12 months membership 
Facilities: Meeting room, hot-desk and bench spaces bookable online on a flexible basis 
Location: The Goldsmiths' Centre, EC1M 5AD (3-minutes from Farringdon station) 
Like to know more about the Gold Membership? Fill in the enquiry form below or call 020 7566 7650 
What is Gold membership?
Whether you are starting out or have an established business, we offer flexible and bookable coworking spaces at the Goldsmiths' Centre from Monday to Friday (9am – 6pm).   
Benefits include access to:  
business and postal address – registered at the Goldsmiths' Centre  
hot-benches – pre-bookable benches in a fully equipped workshop 
hot-desks – pre-bookable work desks with a members' meeting space  
meeting room – to meet clients privately  
facilities – Free wifi and on-site café, Bench  
safe storage – for tools and for valuables or collections, subject to availability.  
Access to workshop equipment – micro flame, forge, rolling mill, draw bench, draw plates, pillar drill, pendant motors, ring stretcher, vice, forming tools, safety pickle, electromagnetic polisher, polishing motor, ultra-sonic cleaner, steam cleaner and laser welder (with induction from on-site technician) 
Website and social media listing – featured on the Goldsmiths' Centre's directory of resident craftspeople and on @gsmithscentre Instagram to 21k-plus followers  
Discounts - 25% discount at our café Bench, 20% discount on all Goldsmiths' Centre venue hire spaces and 20% discount on technical skills short courses  
Networking opportunities – Goldsmiths' Centre community socials, private views, online talks and events  
Terms and conditions: All our facilities are bookable subject to availability and members' assessment on workshop equipment.   
Who is the Gold membership for?
The Gold membership will help you to build your profile, create new work and meet your clients whilst being part of our supportive community.  
To apply, you must:  
be a designer, maker or business in the jewellery, silversmithing or allied industries 
be resident in the UK 
have run your business for at least 2 years 
have developed a full collection or service 
be able to demonstrate the quality of your design and execution of your work  
follow best business practice  
be able to work independently, without support, at the bench and be responsible for your own health and safety  
Your application, which needs to include images of your work, will be reviewed by a panel of experts. To become a Gold member, we ensure that applications meet the standards of business practice and craftsmanship of our Goldsmiths' Centre community.  
How do I register my interest?
We are currently at capacity for our Gold membership programme. 
If you are interested in joining our waiting list, register your interest below. When places become available, our team will be in touch to arrange a guided tour of our co-working spaces, to answer all your questions and to send you an application form.   
Register your interest for Gold membership