Balancing the Brooch: Approaches to Design
Date

03 Jun 2021 · 5:00PM - 6:00PM

Price

Pay what you can (Free, £3, £5 or £10)

Venue

Online via Zoom [GMT+1]

Event type

Events
Book now
Join Goldsmiths' Company Curator Dora Thornton and designers Ginnie de Vroomen, Daphne Krinos and Emmeline Hastings, in-conversation with jewellery writer and curator Rachel Church, as they explore approaches to designing jewellery.
In particular they will consider the brooch, as celebrated in the exhibition The Brooch Unpinned: The Goldsmiths' Company Collection 1961–2021, discussing the need for balance, weighting and pins alongside creativity and expression.
The Brooch Unpinned explores the art of the brooch and the dynamic relationships it creates – between maker and wearer and between wearer and viewer. It presents a selection of British brooches from the Goldsmiths' Company's unique jewellery collection, tracing the evolution of contemporary design in this most wearable and revealing of accessories.
Who are the speakers?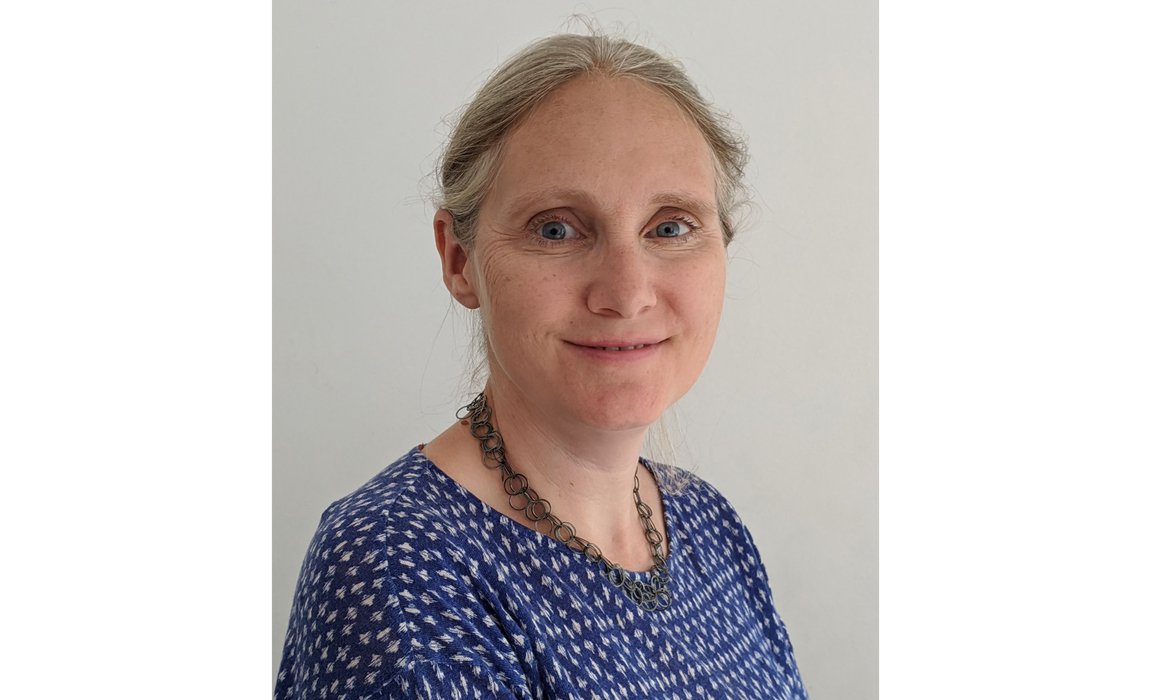 Rachel Church has written and lectured widely on jewellery history and design. She is the author of 'Rings' (V&A/ Thames and Hudson 2011 and 2017) and 'Brooches and Badges' (V&A/ Thames and Hudson 2019). She has worked as a curator at the Victoria and Albert Museum and was part of the team which redeveloped the William and Judith Bollinger Jewellery Gallery.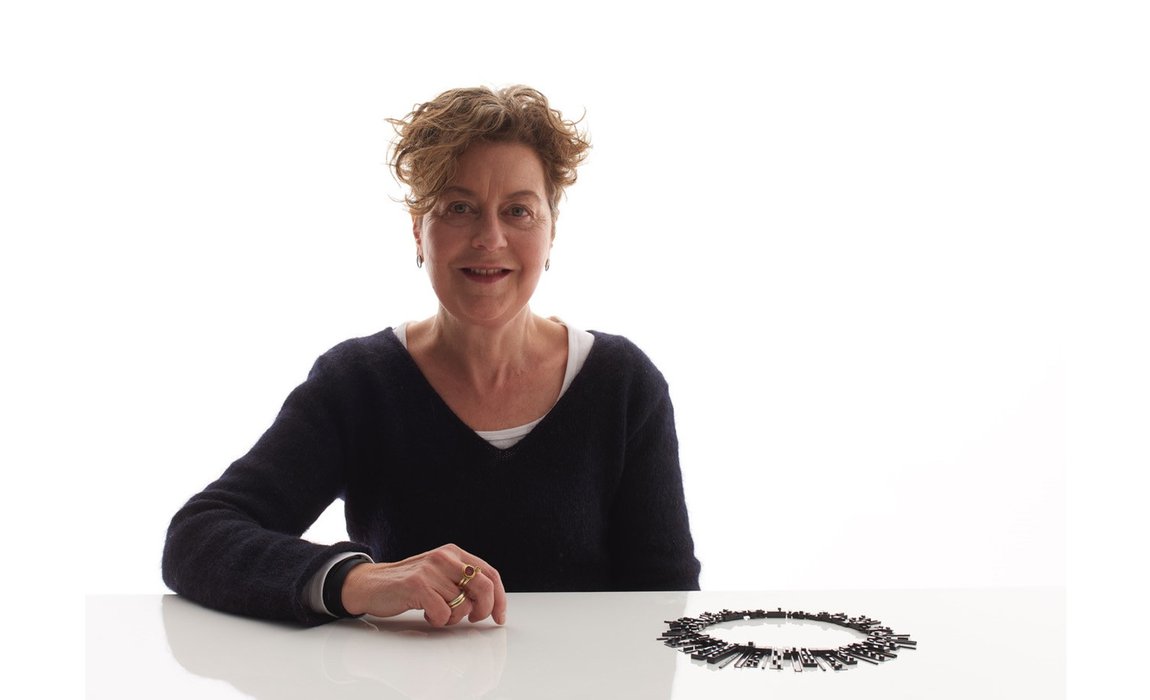 Fine jeweller Daphne Krinos is known for her bold and architectural designs. Creating unique, one-off pieces entirely by hand, she works with gold, black oxidised silver and precious gemstones.
Originally from Greece, Daphne established her studio in London in the early 1980's. Her distinctive work has captured a broad and loyal following, from collectors to artists, architects and lawyers. Daphne's pieces can be found in the permanent collections of the Victoria & Albert Museum, the Goldsmiths' Company and the Crafts Council amongst many others.
Daphne's sculptural jewellery is instantly recognisable, defined by bold use of colour, form, shape and texture. Graphic lines of black oxidised silver offset vivid translucent stones, dramatic articulated or layered compositions combine angular, geometric forms in a mixture of metals. Daphne's playful character shines throughout the work; every piece displaying fresh ideas and exploring processes.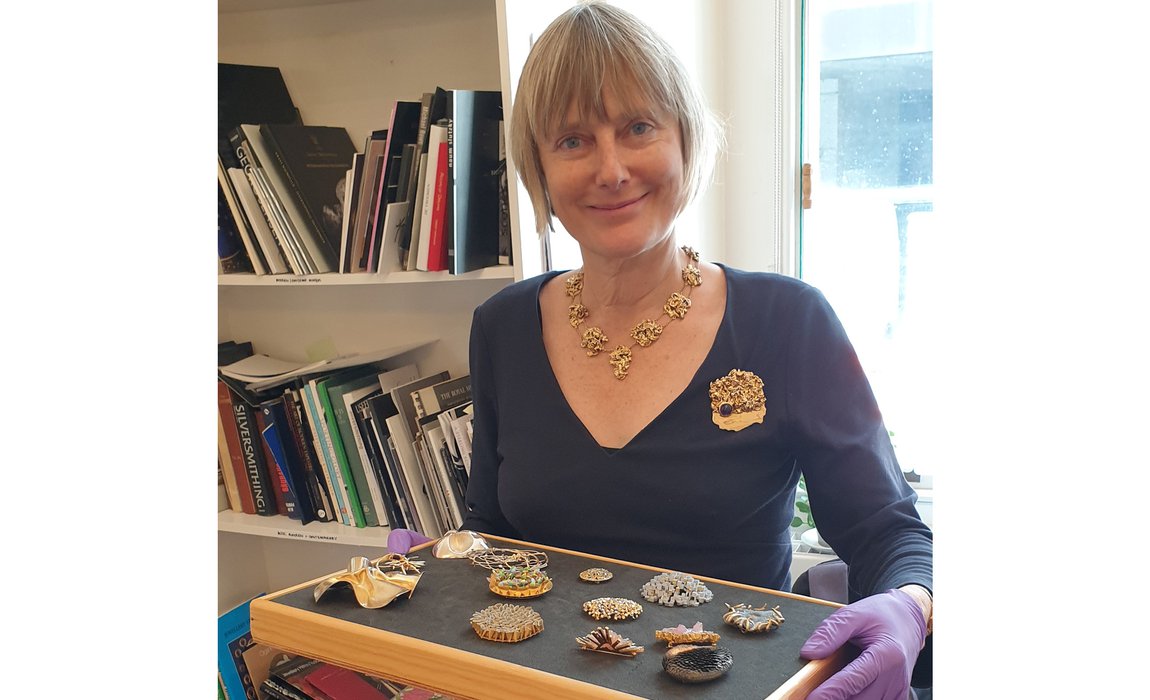 Dr Dora Thornton is Curator of the Goldsmiths' Company Collection. She publishes widely on Renaissance to contemporary applied arts and the history of collecting.
This Brooch Unpinned exhibition held at the Goldsmiths' Centre will be opening subject to Government COVID-19 guidelines on Thursday 25th March 2021 alongside an online events programme. The Goldsmiths' Company curatorial department curated The Brooch Unpinned and associated programme in partnership with the Goldsmiths' Centre.
Following her schooling and Art Foundation year in London, Ginnie de Vroomen studied fashion design at Kingston School of Art. From 1966 to 69, having become more interested in creating the jewellery to accessorise the clothes than the garments themselves, she then went to the Central School of Art and Design in London to specialise in that field. It was here that she met Leo de Vroomen, the Dutch goldsmith, one of her tutors and future husband.
In 1970 they married and started working together, Ginnie combined teaching art metalwork with designing jewellery and painting, and Leo continued as a tutor at the Central School, whilst gradually building up their jewellery collection. They then won their first 'De Beers Diamonds International Award' in 1974. Two years later, their company De Vroomen Design Ltd was established and they started to exhibit at Basel in Switzerland and other international trade fairs. In 1986, they won their second De Beers Award and over the following yers held multiple exhibitions and won awards worldwide.
In 1991 their work was shown in a retrospective at the Goldsmiths' Hall in London. In 2002, they opened their gallery in Elizabeth Street, London. Their second retrospective at Goldsmiths' Hall London, celebrating Leo's 50 years as a goldsmith in England, their long creative partnership and her work as an artist, was featured in 2017.

Image credit: 'Amaru' Brooch (2019) by Emmeline Hastings, Oxidised sterling and argentium silver, 18 carat rose gold, 18 carat yellow gold and platinum, acrylic with stainless steel pin. Carved acrylic base embedded with individually applied precious metal, 5.5cm x 2.5cm © Photographer: Clarissa Bruce, The Goldsmiths' Company Collection