Jewellery Gouache Illustration with Jennifer Bloy
Date

14 Sep 2023 - 19 Sep 2023 · 10am - 4pm

Price

£369 (8 places)

Venue

Design Space at the Goldsmiths' Centre, EC1M 5AD

Event type

Courses
Book now
Are you entering a jewellery design competition or creating a bespoke piece for a client? Gouache jewellery illustration is a valuable skill that allows you to capture what your jewellery design will look like before it is made. Learn how to create a realistic, full-colour image of your chosen piece of fine jewellery with freelancer and award-winning designer of jewellery and objects d'art Jennifer Bloy FRSA FIPG.
During this four-day short course, Jennifer will share top tips and take you on a journey of jewellery design from your initial ideas, rough sketches through to the final realistic presentation painting.
How will this course help my practice?
Delivered in person at the Goldsmiths' Centre, this course will help you to:
improve your design process, building confidence to move ideas onto paper.
create a colourful presentation of a piece of jewellery so your client can connect to your idea and visualise the finished piece.
acquire the communication skills necessary to talk about your design through drawing in front of clients.
What does the course cover?
You will learn:
how to take your original design ideas into a full colour hand render.
the basics of metal colours, so you can suggest different version of the same design.
how to utilize gouache colours to depict light, textures and finishes.
experiment with the 2D presentation process through painting to a finished image.
create a beautiful painting that tell the story of the work that went into the design of the piece.
With classes of maximum 8 students, our small class sizes offer you the chance to get group tuition as well as individual guidance on a 1:1 basis with your tutor, allowing you to receive tailored advice to deepen your skills of drawing and communication using presentation painting.
Due to the complexity and advanced nature of the subject, designing rings will not be covered in this course.
What do I need to bring with me?
The Goldsmiths' Centre provides all materials needed for the course, but you are welcome to bring your own materials with which to experiment on each day.
Who is this course designed for?
Beginners and intermediate: Some basic practical experience or understanding of jewellery is required.
In order to benefit most from this course, participants should bring some of their previous 2D design as reference and/or some ideas they would like to experiment with.
Can I receive financial support to access this course?
We believe that talent should not be held back. Here at the Goldsmiths' Centre, we are open, accessible and inclusive to all. Our Access Grants help anyone to build thriving creative careers, supporting jewellers, silversmiths and allied industry practitioners to access our training courses for free.
If you need help to cover fees for our business and technical skills short courses, please apply for one of our Access Grants. To find out more and read our application criteria, click here:
The Access Grants are delivered by the Goldsmiths' Centre and funded by the Goldsmiths' Company Charity.
Who is the tutor?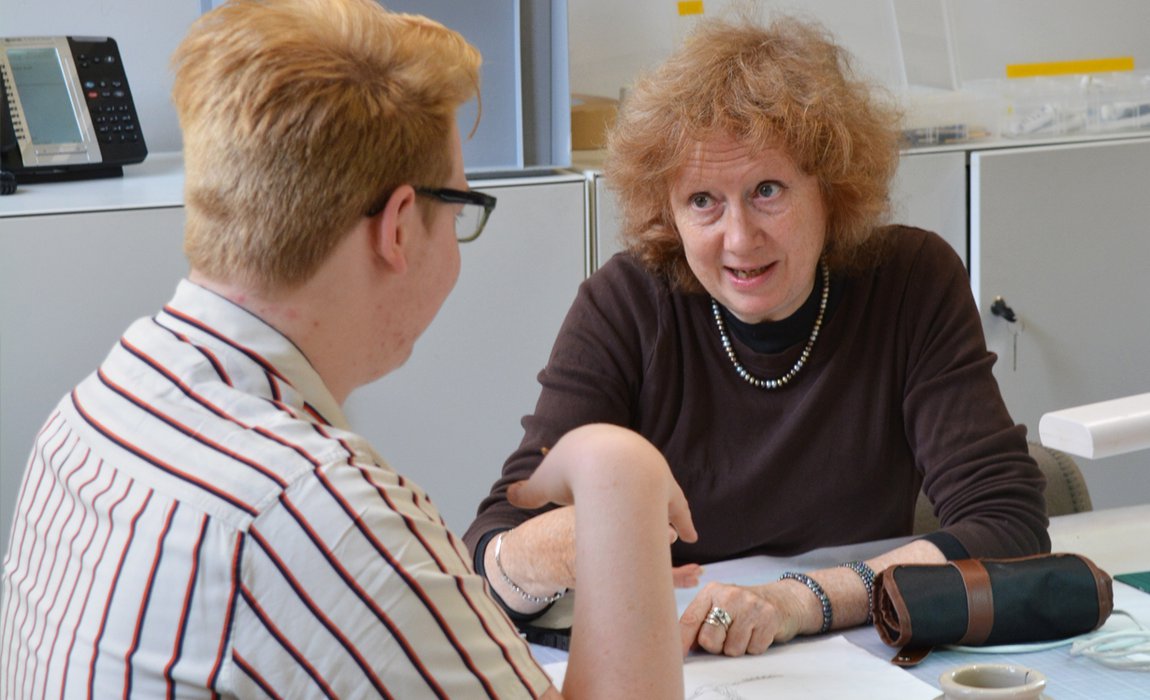 Jennifer Bloy FRSA FIPG is a freelance multi award-winning designer of jewellery and object d'art specialising in hand painted presentation designs and technical drawings. She has created pieces for Royalty and rock stars and is as happy designing an engagement ring as designing gold binoculars. Her work ranges from pieces of fashion jewellery made for a few pounds to exclusive gifts retailing for many thousands. Jennifer is a Fellow of the Institute of Professional Goldsmiths (IPG) and is on the Goldsmiths' Craft and Design Council. She is currently lecturing in design on the Foundation Programme at the Goldsmiths' Centre.