Enamelling: develop and refine your skills with Joan Mac Karell
Date

14 Jul 2023 - 22 Jul 2023 · 9.30AM - 4.30PM

Price

14 July, 15 July and 22 July 2023
£392 (8 places)

Venue

Silversmithing Workshop, The Goldsmiths' Centre, EC1M 5AD

Event type

Courses
See full details
Designed with more experienced enamellers in mind, this three day course (Friday 14th, Saturday 15th and Saturday 22nd July 2023) taught by experienced enameller Joan Mac Karell will introduce makers to Champlevé and Basse-Taille enamelling techniques.
This three day course builds on previous experience of vitreous enamel and will appeal to those who wish to extend their knowledge and understanding of more advanced enamelling processes. Those techniques can be applied to one off commissions or limited-edition pieces. In this course, you will focus on Champlevé and Basse-Taille, setting up your tools, learning to create recesses and low relief pattern in view to apply translucent enamels to your work and create intricate textures and subtle effects.
What will I learn?
Setting up gravers and or scorpers to suit the size of your hands
Preparing the piece for Champlevé / Basse-Taille
Cutting and texturing techniques
Preparing enamel and metal
Wet packing
Finishing
Problem solving
Our small class size offers you the chance to get group as well as individual guidance and 1:1 time with your tutor, allowing you to receive tailored advice to deepen your knowledge and understanding of the enamelling process.
What equipment do I need to bring with me?
Protective clothing or clothing you do not mind getting dirty e.g. apron, and closed toe shoes.
Resource material for your personal design ideas.
Any scorpers and handles you already have so that their suitability for the course can be assessed.
Any enamel pieces of work you have produced to allow the tutor to assess your level of experience.
Tools required for the course: You will be required to bring with you the tools listed below. Please delay buying these until you have spoken with the tutor on the first day of the course.
The Goldsmiths' Centre will provide you with these until you have your own:
Mushroom handles (Short if possible)
Round edge scorper size 4
Flat edge scorper size 6, 10
Spitstick size 2
These are the basics and you may wish to add to them as you learn more. 
Fine good quality paintbrush 00, 0 or 1
Hand tools: scriber, saw frame and blades, needles and hand files etc
Optional:
Coloured pencils, drawing materials, sketch book
You will be provided with:
Pieces of copper and a piece of sterling silver sheet, enamels and all related materials.
Who is this course designed for?
Intermediate: Some practical experience and basic understanding of the listed skill required
Participants should be comfortable in a workshop environment and able to work independently on basic tasks.
Can I receive financial support to access this course?
We believe that talent should not be held back. Here at the Goldsmiths' Centre, we are open, accessible and inclusive to all. Our Access Grants help anyone to build thriving creative careers, supporting jewellers, silversmiths and allied industry practitioners to access our training courses for free.
If you need help to cover fees for our business and technical skills short courses, please apply for one of our Access Grants. To find out more and read our application criteria, click here:
The Access Grants are delivered by the Goldsmiths' Centre and funded by the Goldsmiths' Company Charity.
Who is the tutor?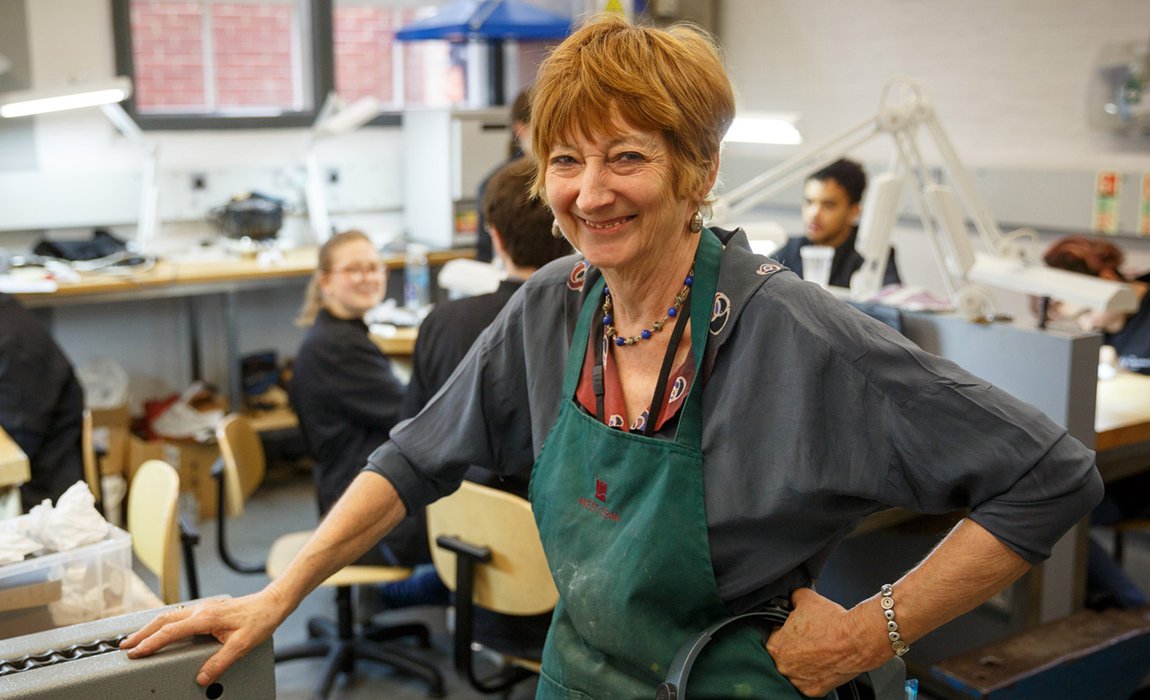 Joan Mac Karell completed her first degree in textiles before retraining at Sir John Cass metalwork department in jewellery and enamel and where she taught as a part-time senior lecturer for many years. She is a founder member of British Society of Enamellers and was a Director of Studio Fusion Gallery for over 22 years. She has work published in numerous books on enamel and jewellery, both in the US and the UK.