Chain Making with Lucie Gledhill
Date

29 Mar 2023 · 9:30AM - 4:30PM

Price

£162 (8 places)

Venue

Silversmithing Workshop, The Goldsmiths' Centre, EC1M 5AD

Event type

Courses
Sold out
Whether used as embellishment or adornment, chains are one of the most versatile and long lasting pieces of jewellery. Yet today, chains are often mass produced by machines to satisfy market demand. Lucie Gledhill, an expert in weaving with wire and making chain, will help you unlock the secret of creating curb chain – a heavy chain particularly popular for men's jewellery.
This day short course will take you on a twisting journey of interlocked soldered links. Lucie will show you how to make jump ring, turn them into links and solder, before twisting and flattening the chain
"A really challenging, interesting and rewarding course to learn an under-appreciated skill. Lucie was patient, encouraging and generous with her time and knowledge, and as with all Goldsmiths' Centre's courses, I learned far more than simply chain-making, with lots of great advice and new techniques."
What will I learn?
How to choose the correct gauge of wire and estimate the quantity of metal required 
How to produce jump rings in the most efficient way 
How to link and solder links effectively
How to form and shape your chain using different tools and equipment 
How to finish and polish your chain safely
By the end of the course, you will have produced enough curb chain to form this into a finger ring. The tutor will work with you as a group and individually and will support and guide you through your learning.
Our small class size offers you the chance to get group as well as individual guidance and 1:1 time with your tutor, allowing you to receive tailored advice to deepen your knowledge and understanding of this technique. 
What do I need to bring with me?
Basic jewellery tool kit including piercing saw frame
Rawhide mallet
Hand vice
Paint brush for borax
Soldering probe or tweezers
Tin snips
Parallel pliers
Flat nose pliers
Note book + Pen
Optional:
Spectacles or head visor (if required) to work on small details
You will be provided with:
All other necessary equipment
Silver wire as required
Silver Hard solder
Soldering station including, soldering matt, borax dish & cone
Emery paper
2/0 blades x1 bundle
Who is this course designed for?
Intermediate: Some practical experience and basic understanding of the listed skill required
In order to benefit most from this course, participants should have experience of being in a workshop environment and able to work independently on basic tasks such as piercing, filling and soldering.
Can I receive financial support to access this course?
We believe that talent should not be held back. Here at the Goldsmiths' Centre, we are open, accessible and inclusive to all. Our Access Grants help anyone to build thriving creative careers, supporting jewellers, silversmiths and allied industry practitioners to access our training courses for free.
If you need help to cover fees for our business and technical skills short courses, please apply for one of our Access Grants. To find out more and read our application criteria, click here.
The Access Grants are delivered by the Goldsmiths' Centre and funded by the Goldsmiths' Company Charity.
Who is the tutor?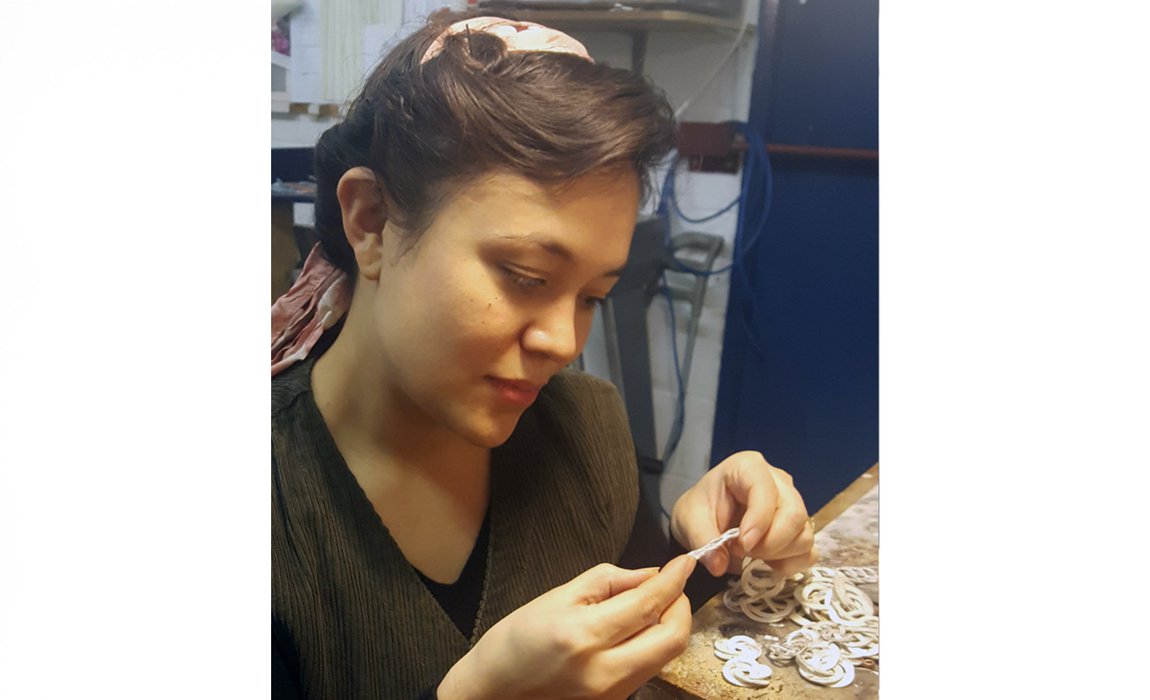 Lucie Gledhill was nominated as Best New Designer at Goldsmith Fair 2019. Graduated from the Royal College of Art, Lucie predominantly work with wire in repetitive process, she applies a low-tech techniques approach to traditional making techniques. Lucie is known for her expertise in chain making.