Diamond-Mounting Techniques: Cluster Ring
Date

24 Mar 2020 - 12 May 2020 · 1:30PM - 4:30PM, 8 week course

Price

£360 (Tue 24 and 31 March, 7, 14, 21 and 28 Apr, 5 and 12 May 2020)

Venue

Specialist Workshop

Event type

Courses
Book now
Designed for more experienced jewellers, this afternoon course taught by jeweller Stuart Paul will develop your hand skills by producing a traditional, 9 stone basket back cluster. Ideal for intermediate to advanced learners.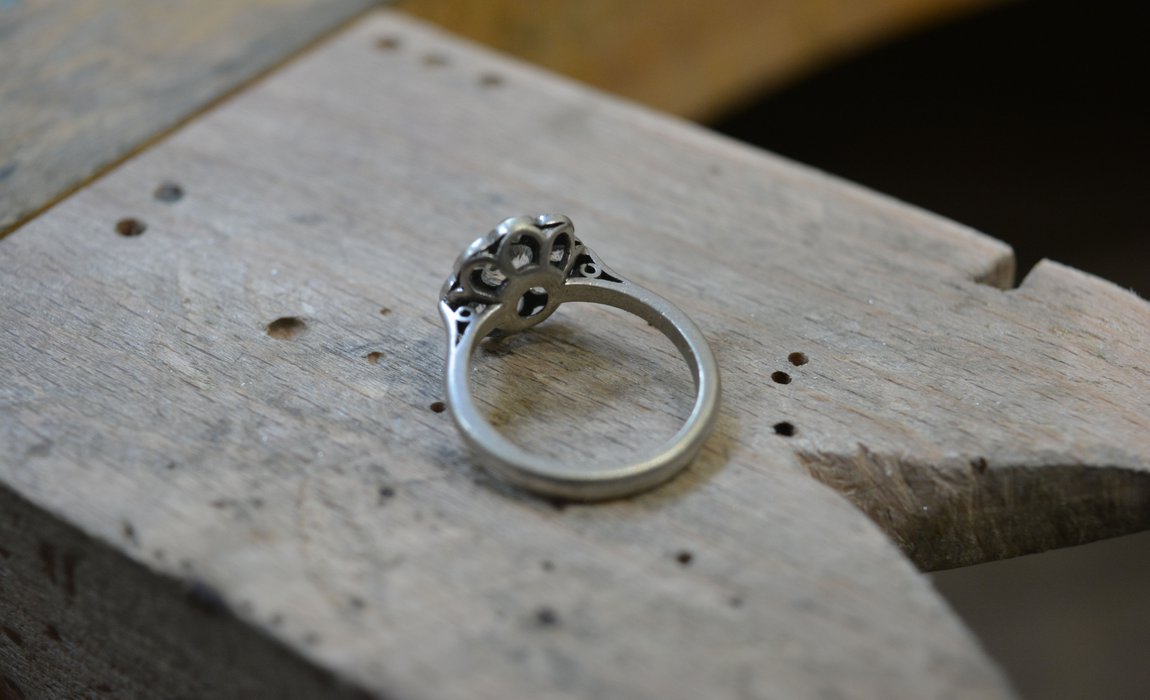 Taking place in the Goldsmiths' Centre's well-equipped workshops, this course gives you the opportunity to develop and utilise traditional hand-making techniques including:
Marking Out & Drilling
Doming & Forming
Piercing & Back Holing
Producing Collets (to specific stone sizes)
Producing Shanks (from wire to size)
Soldering
Finishing
By producing this traditional design, you will develop techniques relevant to your own practice, improving your skills and learning new processes under the guidance of a master jeweller with over 40 years of experience at the bench. Our small class sizes (maximum of 8) mean that you will receive tailored advice that will help you strengthen your skills and improve your productivity. 
Towards the end of the course you will have the opportunity to take part in 1:1 surgeries where you can discuss any particular issues or challenges that you are facing in producing your own work.   
What do I need to bring with me?
Please bring your own hand tools
Protective clothing or clothing you do not mind getting dirty e.g. apron, and closed toe shoes 
Who is this course designed for?
Intermediate: Some practical experience and basic understanding of the listed skill required. 
Participants should be comfortable in a workshop environment and have a good understanding of basic jewellery tools and techniques. This course is not suitable for beginners.
Who is the tutor?
With over 40 years' experience working in the trade, Stuart Paul runs his own business Stuart Paul Jewellery and specialises in bespoke jewellery commissions, engagement and wedding rings unique to each customer, handmade at the Goldsmiths' Centre in London. He started his career working with David Thomas, then went on to work with Sarah Joanes, Asprey and De Beers. Stuart also has over 20 years' experience as a jewellery tutor having taught at a number of different education and training providers.