Register your interest for Shine 2022!
Are you a designer maker resident in the UK in your first five years of business? Have you recently developed a new collection and want to get market ready? Each year the Goldsmiths' Centre invites jewellers and silversmiths through an Open Call to take part in Shine, an annual new talent showcase of jewellery and silversmithing.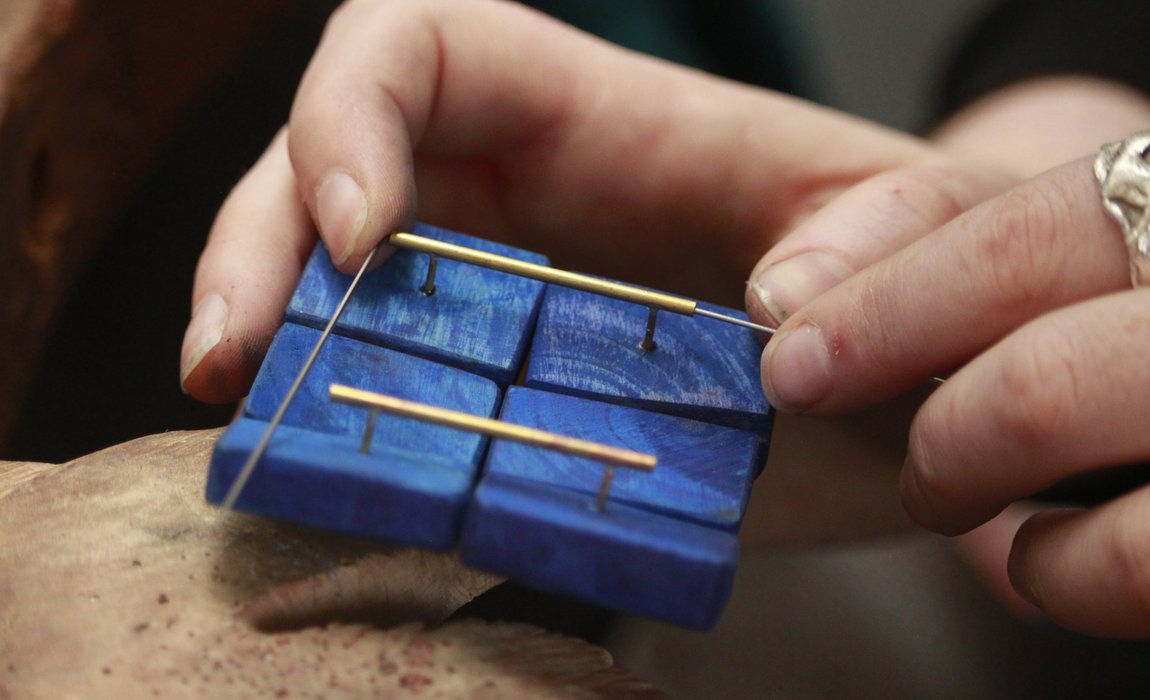 Shine 2022 online exhibition live: 22 September - 22 December 2022
Application deadline: Register your interest below, before applications open in June 2021
Delivery: Online
Fee: Free for those who successfully apply 
Shine 2022 online exhibition and selling event launch: 22 September 2022
Course, event and exhibition dates: Dates to be announced.
Like to know more? Just talk to our team! Call 020 7566 7650 and ask to speak to the Pubic Programme Manager or email us shop@goldsmiths-centre.org
We provide the unique opportunity to participate in an intensive, online skills training programme, covering all key aspects of presenting yourself and your work in person and online.
Your new collection will also be shared with potential consumers, buyers and the wider industry through our online shop, Goldsmiths' Shop Talent, social media channels and special Meet the Maker events. 
Please familiarise yourself with the entry criteria to be considered for one of the fifteen available to participate in Shine 2022.
What criteria do I need to meet to be selected?
A judging panel, consisting of Goldsmiths' Centre team members, invited guest judges and a former Shine participant, will assess each anonymised application based on whether you are:
In the first 5 years of business and resident in the UK.
Committed to undertake and complete the Shine training programme.
Committed to growing a business as a designer-maker jeweller or silversmith.
And that your collection fits the following criteria: 
Coherent and tells a good story through the design and materials.
Well-made and finished.
Appropriately priced and presented.
Made (and available from 28th June) to sell from the Goldsmiths' Centre Shop Talent e-commerce site.
What support will I receive?
You will receive access to an online skills training programme, delivered by the Goldsmiths' Centre. This will prepare you for a number of practical initiatives, helping you to grow your understanding of how to develop your business both in person and online. 
Areas covered in your training will include: 
Presenting yourself and your work on camera 
Photographing your work 
Writing about your work 
Selling at a distance
Boosting your online presence 
Taking part in live events 
Promoting your presence at Shine 202s
Following your training, you will take part in an interview to inform the Goldsmiths' Shop Talent blog and online events, where you will learn how to present yourself and your collections via Zoom. Finally, you will also capture photographic and filmed content for the Goldsmiths' Centre team to be transformed into a promotional film and social media content. 
How do we support emerging makers?
The Goldsmiths' Centre is a charity that supports creative and talented emerging makers offering a platform to thrive, connect and collectively grow skills and businesses. 
This year we have widened access to and the number of individuals that we support through to our programmes in recognition of the impact of the COVID-19 pandemic on the marketplace and early career opportunities.