Career Catalyst Grants
Keen to make a change in your practice? No matter what stage of your creative career, it is important to keep innovating and growing your knowledge and skills. Our new Career Catalyst Grants offer jewellers, silversmiths and others working in the allied industries the chance to pursue an ambitious learning experience.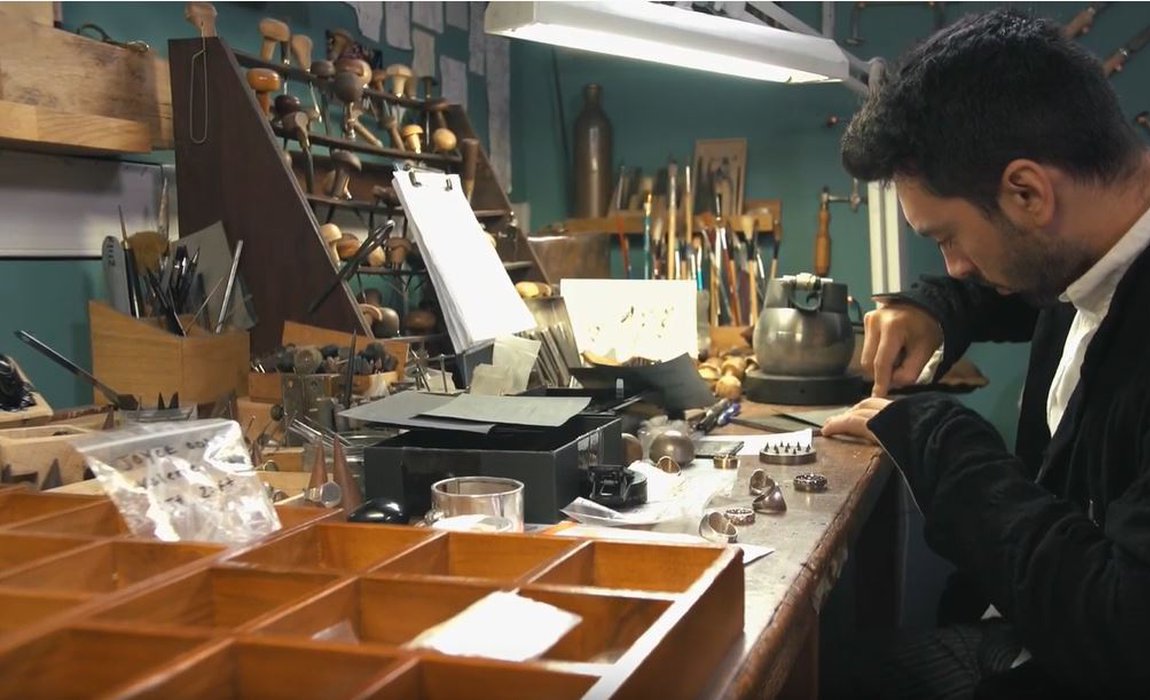 Grants of up to £5,000 including VAT. 5 years' plus experience.
Application deadline: Applications for this year have now closed.
Interviews: Interviews for this year have now closed.
Like to know more? Just talk to our team! Call 020 7566 7650 or email
What is the Career Catalyst Grant?
The Goldsmiths' Centre provides you with the opportunity to apply for grants of up to £5,000 including VAT, so that you can take a dedicated period out of your daily routine to focus on your own creative development.
Recipients of the grants, who must have five plus years' experience, are required to make a minimum of a 10% financial contribution towards the overall project cost and will be expected to contribute to the Goldsmiths' Centre's public programme by teaching on our skills short courses, speaking as part of our talks programming or mentoring emerging makers within one year of completion.  
These grants encourage you to immerse yourself in an unfamiliar environment and develop an innovative approach to your practice, helping you to create new work and enrich the goldsmithing industry as a whole.  
Listen to former Goldsmiths' Company Apprentice, jeweller and engraver Castro Smith, who helped to inspire the development of the Goldsmiths' Centre's Career Catalyst Grant through his travel to Japan in 2018, and discover more about how his experiences have shaped his practice.
Thinking of applying? Discover how these grants have helped other successful applicants to make a change.
To be eligible to apply, your application must clearly outline an opportunity that enables you to make a deep intervention in your craft. The project must take place within 12 months. You will be asked to demonstrate that you can make a step change in your practice and work in new, innovative ways. 
Your proposal could include: 
Technical or business skills training within the Goldsmiths' Centre's portfolio or our partners; 
A training internship with a Master craftsperson, or
A period of international travel to research and develop a range of work intended for production in the UK
Experimenting with collaborators 
A prestigious judging panel, consisting of Goldsmiths' Centre Trustees and industry experts, will review your application on its potential. If successful, you will be invited for an interview with the panel to present your proposal. 
Do I need a particular skills or experience to apply?
Anyone who applies for a Career Catalyst Grant needs to: 
Apply as an individual, or as a small group of practitioners who usually collaborate in their work. This could be makers who usually create work together. Organisations cannot apply, and individuals cannot apply on behalf of an organisation. 
Have five plus year's creative practice experience outside of formal education context 
Be based within (live in) the UK
Have a UK bank account in the exact name they are applying in 
Be in a financial position to contribute a minimum of 10% of the overall project cost (we will require proof of this funding before the grant is made). Contributions in-kind e.g. your time will not be counted for this purpose 
How will your project be assessed?
During your project, you will need to demonstrate the impact of your Career Catalyst Grant through a range of potential outcomes. These could include: 
Expanding your portfolio of work through developing a new range;
Expanding your client basis;  
Identifying new exhibition and selling opportunities;
Gaining experience of disseminating knowledge through teaching, talks and online resources and marketing.
We will also ask you to share your progress during the project and you will be asked for the following: 
A mid-training report reflecting on your progress and areas to address in the second half of the training
A completion report to be submitted within 6 months of the training to analyse the impact of your training on your work and to demonstrate the steps you have taken to implement your training
A breakdown of all project expenditure along with with associated receipts, tickets etc.  
Apply
Please note that applications have now closed.
Career Catalyst Grant Interviews
Supported by