Become a Master - The Midlands
Wish to pass on your skills to the next generation of craftspeople in the Midlands? As a Master to an Apprentice, you can make a real impact and help to keep the trade alive.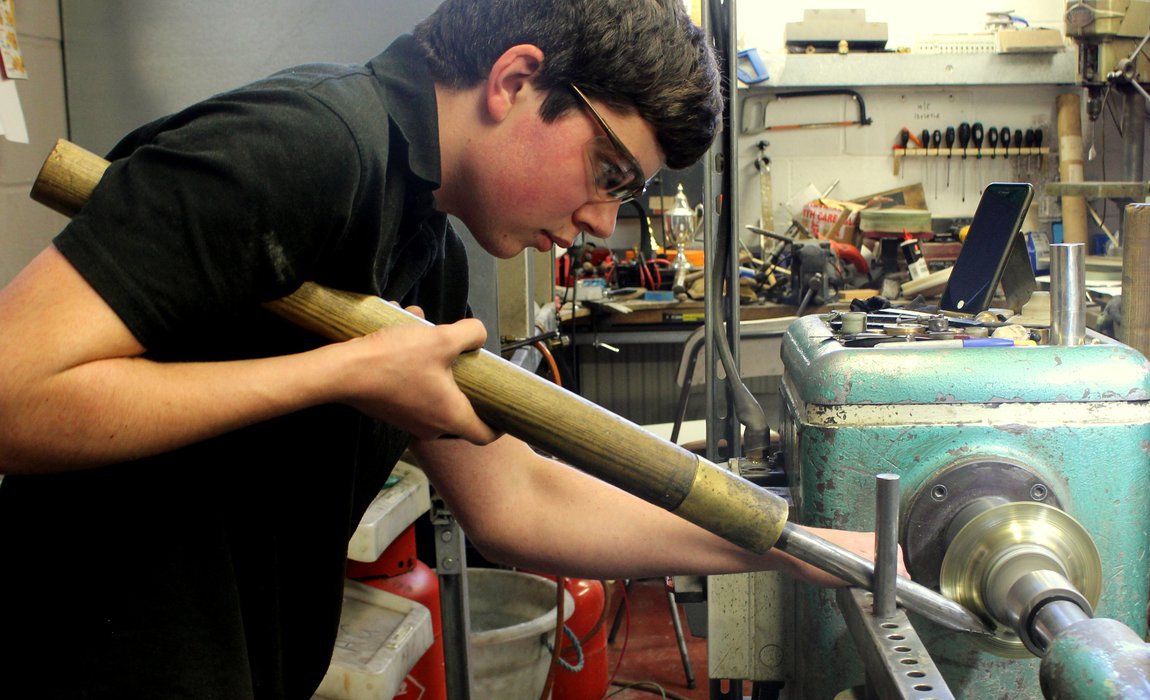 You're invited to find out about Apprentices
Have you considered taking on an apprentice in the Midlands (Lincolnshire, Leicestershire and the West Midlands), but are unsure of what's involved? Email us to find out more at
What is the Goldsmiths' Company Apprentice Expansion project?
The Goldsmiths' Company, one of the Twelve Great Livery Companies of the City of London, has been supporting young people into apprenticeships for over 700 years. As a Freeman of the Goldsmiths' Company and a craftsperson, you are key in supporting young people to learn first-hand about the craft in a professional workshop.
The Goldsmiths' Company are now running a pilot project to expand the apprenticeship scheme into the "Midlands", an area stretching from Lincolnshire, via Leicestershire to the West Midlands. The Apprentice Expansion Pilot (AEP) is looking for potential apprentices and Masters (employers). 
Why should I become a Master?
Today we work in partnership with the Goldsmiths' Company to ensure that its proud tradition of apprenticeships dating back to its foundation in 1327 continues into the future. When an Apprentice is made Free from the Goldsmiths' Company, this reflects their commitment to learning their skill and the quality of your training and support as their Master. 
Everyone who has had some input into my training and my career have pushed me forward and inspired me – that inspires you to be better than them.
What support do Masters get?
As a Master, you and your apprentice will receive the following on-going support from the Goldsmiths' Centre. Our support includes:
Entrance into the Freedom of the Goldsmiths' Company at the end of an apprentice's time (if successful)
A discipline-specific training plan ensuring all apprentices acquire the same basic levels of skill, knowledge and experience
Participation for apprentices in a Day Release Programme for up to four years
Support in working towards a Level 4 qualification
Pastoral support for apprentices, Masters and companies via the team
Networking opportunities for apprentices and Masters at social events
Access to additional opportunities via the Goldsmiths' Centre i.e. entry into relevant competitions, the opportunity to be involved in exhibitions and being informed of technical events and masterclasses 
There are 4 places on the Goldsmiths' Company Apprenticeship Scheme in the Midlands in the AEP's first pilot year with applications being considered by our Selection Committee in September. 
How can I find an apprentice?
We aim to make the process of finding an apprentice as easy as possible. All apprentices must complete twelve months' workshop experience in one of the following two ways:
Route 1
You may have already identified someone within your company as a potential apprentice. If you choose this route the potential apprentice must have been continuously employed in your company for 12 months. 
You will need to apply for the scheme by completing the "Become a Goldsmiths' Company Master Application Form – Midlands"   
Route 2
You may as yet not have found a suitable apprentice. In this case, we can support you in identifying suitable candidates from the local area who have successfully completed a related practical qualification at Level 3 or above. Once matched, the potential apprentice will need to complete 3 months' probation period within your workshop.
You will need to apply for the scheme by completing the "Become a Goldsmiths' Company Master Application Form – Midlands"   
What happens next?
Once you have successfully found an apprentice and have been accepted onto the scheme, you and your apprentice will receive a visit from the apprenticeship team for a pre-binding visit. You will be then asked to attend an induction day in London for all apprentices and Masters coming onto the scheme. 
Your traditional Binding Ceremony will take place at the prestigious Goldsmiths' Hall, where you will sign the indentures.   
Apprentices will attend Day Release training each year of their apprenticeship. During this training apprentices will learn a range of complementary skills, investigate materials, go on industry visits and attend qualification days. This programme helps to develop apprentices into a functional member of our trade with a solid understanding of the various specialisms.   
In their final year, apprentices work towards producing a masterpiece, which is presented to The Court of Wardens of the Goldsmiths' Company at their Freedom Ceremony. If their work is of the expected quality an apprentice will be awarded the Freedom of the Goldsmiths' Company, and age dependent, also the City of London. In addition to this, apprentices work towards attaining a Level 4 City & Guilds Professional Recognition Award. 
All apprentices are required to take part in Day Release at the Goldsmiths' Centre. The cost of this training is covered by the Goldsmiths' Company. You are expected to enable apprentices to attend these pre-arranged dates, which are scheduled to fit in with the industry year, in order to support them in their skills development. 
How do I apply?
You can apply for an apprentice by filling in the "Become a Goldsmiths' Company Master Application Form – Midlands". 
If you have any questions in regards to becoming a Master, call 020 7566 7650 or email professionaltraining@goldsmiths-centre.org
The Apprentice Expansion Pilot (AEP) will be managed and delivered by the Goldsmiths' Centre on behalf of the Goldsmiths' Company and it shall have sole discretion about who is accepted onto the pilot. 
 
Become a Goldsmiths' Company Master - Application Form - Midlands

(219.7 KB)
Become a Master - Application Form - Midlands (word doc)

(215.4 KB)