Afternoon Tea at Bench
Indulge in afternoon tea with an extraordinary twist set within the intimate, yet rustic charm of the Goldsmiths' Centre's café, Bench. Inspired by the timeless elegance of silverware and celebrated through the unique touring exhibition, Made for the Table, you are invited to treat your senses through a lovingly hand-crafted menu of dishes that will spark your imagination.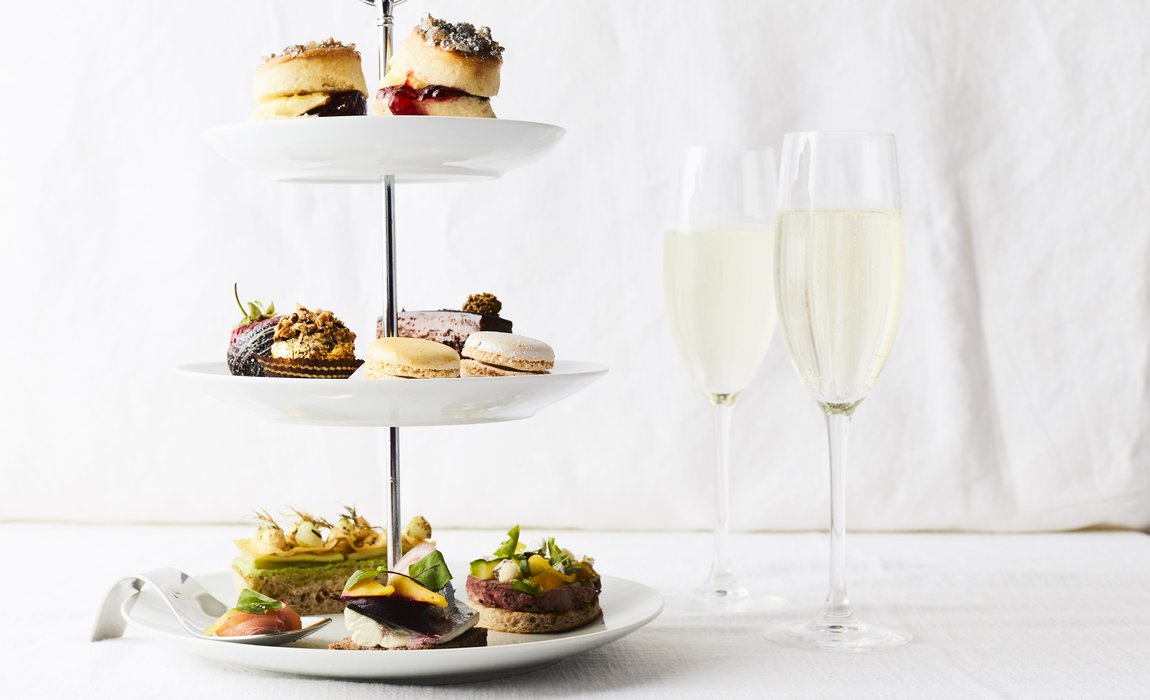 Curated by award-winning food historian, Tasha Marks, the menu is inspired by 500 years of history and ritual surrounding silverware as the focal point of the dining table. Discover the story of the past with flavours of the future created by our talented in-house chefs Gather & Gather; and feast on a selection of open sandwiches garnished with edible gold glitter and silver leaf, tarts with silver soil crumble topping and sweets from silver and gold macaroons to mini scone stopped with silver decoration. 
Afternoon tea is served every Friday between 13 July and 31 August 2018 from 3pm to 4pm and 4pm to 5pm. The feast is served with selection of organic loose-leaf teas and an optional glass of prosecco. 
£35 afternoon tea with a glass of prosecco 
£30 afternoon tea
Afternoon Tea Menu
Apples of Gold in Setting of Silver
Savoury: 'Fingers were made before knives and forks'
Open Sandwich selection
Mackarel and beetroot with a dash of edible silver leaf
Ham hock and piccalilli with garnish of edible silver rocks
Classic cucumber sandwich with edible gold glitter (v) 
Asparagus and Parmesan Tart – with silver pearls
Savory Ferrero Rocher – Cep mousse, rolled in hazelnuts wrapped in gold foil sweet wrapper 
Silver spoon with… Smoked salmon, red onions and herbs 
Sweet: 'A spoonful of sugar…'
Silver & Gold Macaroon
Gold / Silver Dipped Strawberry
Bakewell Tart – Decorated with sugared almonds
5-way chocolate feuillettine with gold nugget
Mini scones topped with silver decoration – Served with jam and clotted cream
 
Menu Designers
AVM Curiosities has been exploring the relationship between art and food through a series of events and edible interventions since 2011. Founded by award-winning food historian Tasha Marks, (Grey Goose Iconoclast of Taste 2013, Selfridges Bright Young Thing 2013 and Young British Foodie 2013 – Experiential Finalist) AVM Curiosities champions the use of food as an artistic medium, with projects ranging from museum exhibitions and sculptural installations to interactive lectures and limited-edition confectionery.